Contes
Dominated to the south by Mont Macaron (800m) and to the north by Mont Férion (1400m), the commune of Contes includes the village and three hamlets - Sclos, La Vernea, and La Pointe - planted with pines, mimosas and olive trees..
Contes is one of the oldest villages of the
Nice
area.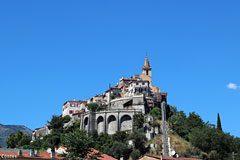 Still perched on a rocky outcrop, it still seems to watch over the Paillon valley from the top of its ramparts, even if it is no longer the pirates and other Barbary people who arrive from this side, but rather the tourist infrastructures - hotels, restaurants, parkings…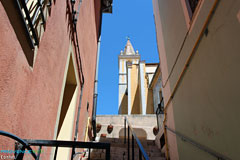 Not that the village is extremely touristy. On the contrary, wrongly misunderstood, Contes will surprise you with the beautiful vestiges of its past: in particular, the east tower of the old ramparts, which has become the bell tower of the Sainte-Marie-Madeleine church. Church dating from the 16th century, in front of which stands a superb fountain from the same period (Renaissance).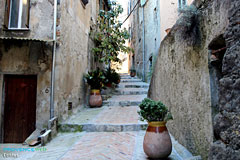 The rest of the village, although unevenly restored, has an Italian charm with its covered passageways, its few trompe-l'oeil facades, its arcades and its old washhouses, its succulent plants in jars and its terraces with breathtaking views.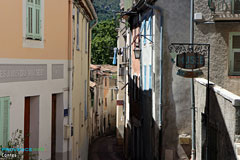 It must be nice to sip a drink on one of these terraces on summer evenings.
But do not forget that the view is paid for: you will need breath and good calves to reach the summits of this perched village!
What to see
Renaissance fountain (two levels, 1587).
Ste. Marie Magdaleine Church.
An ancient blacksmith's workshop. Oil mill.
Bernard Pagis-Sculptor.
Leisure activities
Swimming pool. Tennis. Feast Days.
Fairs : agicultural, commercial, and crafts.
Gastronomy : Soupe au Pistou, Ravioli, Aioli, Brissaouda.
Accomodations
Hotels.
Campsites.
Holiday rentals.