Berre les Alpes
North East of Nice (24km), take D2204 heading to Sospel, the the D615 to the left 1 km before l'Escarene.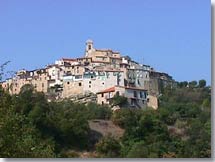 Dominated by its church, Berre les Alpes is a pretty little village perched on a belvedere straddling two mountains, Ferrion and Mont Agel, which stands in the middle of mimosas, olive trees, chestnut trees and umbrella pines.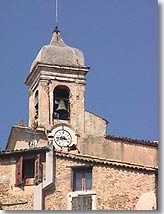 Lordship of the Berre family for five centuries, Berre les Alpes is rich in its noble medieval past, of which only the ruins of a feudal castle remain today: in the 14th century, it is said, the troubadour Guillaume Boyer sang courtly love.
Calm and serene, far from the crowds and the stress and nevertheless close to Nice, Berre les Alpes is an attractive village which has gained many inhabitants in recent years: we understand why when we stroll through its still medieval streets, lined with tall houses. alpine in beautiful pink or yellow stone while admiring its old wrought iron signs, its small fountains and its refreshing vaulted passages.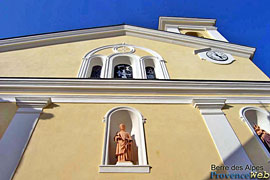 Not to mention the charming church with a pale yellow neo-Renaissance facade, perfectly restored, which contains some treasures: an alabaster statue of the Virgin and Child from the 15th century and a wooden Saint Sebastian dated 1620..
Clean, flowery, well restored, enjoying a superb panorama and a light air, Berre les Alpes has everything to please city dwellers in search of authenticity and in the same way, it will please tourists and visitors alike.
What to see
19th century remodeled 14th century church. Chapels.
Two original 15th century mills. Bread oven.
Natural phenomena: the Roche d'Argent, ruiniform sandstone rocks.
Conquests bridge (natural bridge), natural sculpture of the Virgin and Child (Roads trail).
Leisure activities
Tennis. Archery. Hiking.
Mimosa Festival in February.
The Night procession of Slugs.
In June the Fete du four.
St. Laurent's Feast Day in August.
Chestnut Festival in October.
Accomodations
Hotels.
Holiday rentals.