Guillaumes
At the gateway to the
National Mercantour Park
, Guillaumes is a charming village nestling at the bottom of the high valley of the Var river, on the road to the Cayolle pass.
This former stronghold founded by Guillaume in the 10th century subsequently became a royal town in the 13th century, as shown by the Castle of
Reine Jeanne
and was later fortified by
Vauban
, It has a past to be proud of. To this day the ruins of the château perched on a rocky outcrop overlook the village, giving it an undeniably medieval air.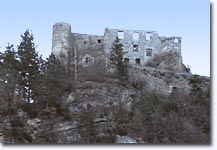 Having admired the Romanesque bell tower of the church of St Etienne, journey into the past, by taking Rue des Troubadours or Rue du Roi Rene, to admire a covered passageway, a low door or an ancient press, magnificently preserved.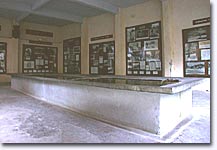 Under the broad vaulted roof of the old wash house, a permanent exhibition of drawings and photos will bring to life for you the grandiose history of this little village: to understand for example the coat of arms of the Guillaume family, a large silver G surmounted by a fleur-de-lis, in the colours of
Queen Jeanne
(Red and Gold).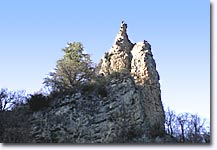 Sanctuary of Notre Dame du Buyei, its churches, its thirteen chapels. Museum of arts and traditions (free guided tours), the
Daluis
Gorge or the "Clues de Guillaumes".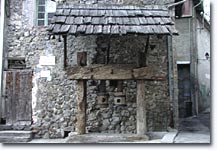 Within these wonderful natural surroundings a vast array of activities are on offer. In winter you can ski at the
Valberg
ski resort (located in the Guillaumes commune) with its range of ski lifts and pistes to suit all levels of skier.
Right throughout the year numerous festivals are organized, take part and you'll be sure to appreciate the welcoming spirit of the local residents, the "Guillaumois".
What to see
Notre dame du Buyei sanctuary, its churches and 13 chapels.
Church St Etienne and the XIIIth bell tower.
The ruins of Queen Jeanne's castle, a XVth century classified monument.
Arts and traditions museum (free guided tours).
Gorges de Daluis or "clues de Guillaumes".
The hamlet of Bouchanieres.
Leisure activities
Walking, horse riding and donkey riding. Swimming pool. Tennis.
Horse riding. Trout fishing. Canyoning. Rafting. Bungee jumping. Abseiling.
Down hill skiing at Valberg. St Agathe's Fete in February.
St Jean's Fete end of June.
Patronal feast of Notre Dame du Buyei.
Napoleonic feast on 15th August (procession of the Imperial sappers),
"Nature, mountains and traditions" book festival in late August.
Accomodations
Hotel.
Holiday rentals. Gites.