Belvédère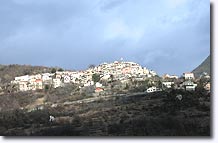 The medieval village of Belvedere overlooks
the Vesubie valley
from an altitude of 800 metres, and you will often see birds of prey soaring in the sky above.
Belvédère is well known to mountaineers, because you have to go through it to get to the famous Gordolasque valley.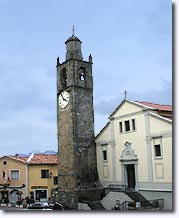 This perched village benefits from a magnificent south-facing aspect. It seems to nestle into the mountainside, where a number of old hay barns are perched too, built from grey and pink stone.
You will need all your stamina to climb the stairs leading to the heart of the village, but you will be rewarded by its charming streets lined with old stone houses, some of which seem to be leaning!
Most of these tall houses are in the Piedmontese alpine style and are sometimes connected by a "cantoun", which is a roofed passageway.
The village square has a welcoming feel to it with its two cafes, its old archways and its 17th century St Pierre and St Paul church, with its square bell tower. At this height the panoramic view and the bracing air are intoxicating. You will no doubt come across a few locals carrying their rucksacks.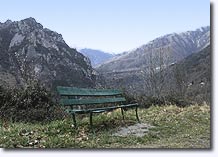 The Gordolasque valley is a very popular point of access to the
Merveilles Valley
and the
Mercantour National Park
, is at the foot of the highest peaks in the department, such as the Gélas (3143 m) or Mont Clapier (3045 m).
Some scenes from the film "Belle et Sébastien" were shot here. So, are you in shape for a little hike up one of the highest peaks in the Gordolasque ?
What to see
Ruins of a 13th century chateau belonging to a count.
Fortified gate.
St Pierre and St Paul church.
Le Planet, St Blaise and St Grat Chapels.
Leisure activities
Starting point for hikes.
Horse riding.
Milk Museum.
Fishing. Mountaineering (2 Club Alpin refuges).
Accomodations
In the village : 2 restaurants. Gites.
At Gordolasque : 2 restaurants.
1 Chalet/Inn.
Holiday center. Furnished lettings.