Beausoleil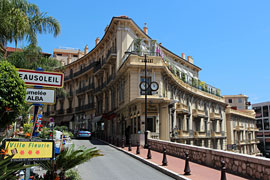 With the Mont des Mules and Tete de Chien towering over it, Beausoleil stretches out in an amphitheatre above
Monaco
.
The municipality was created relatively recently (1904), and is renowned for its "Belle Epoque" architecture.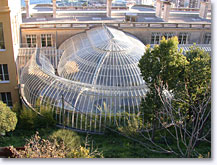 The finest example is the Riviera Palace, a Historic Monument including a winter garden built by the Eiffel company, who also erected the covered market with its metal structure.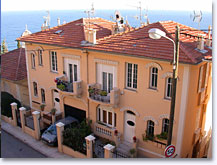 Like a Montmartre of the Riviera, clinging to the slope, Beausoleil has an uninterrupted view of the principality, its Casino and its skyscrapers.
Also in the distance is the Mediterranean Sea. It's a rather dizzying view which gives it a remarkable style, especially as it also boasts many parks and gardens (it is estimated there are 3,500 private gardens) with their fragrances of the South.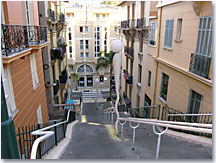 Beausoleil is a dormitory town for
Monaco
, and at first sight it is not particularly impressive. But don't be discouraged by these intertwining steeply sloping streets.
However it's true you'll need some puff to climb up one of the innumerable stairways, lined with houses painted in Italian colours, that go through the town... but then you'll be able to marvel at the equally innumerable terraces and balconies perched above the Big Blue...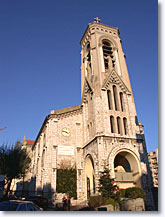 Lovers of archaeology should take the "Parcours Antique", a path heading for Mont des Mules (allow two hours to walk there from the Font divina fountain) to explore the great Cyclopean wall, which is all that remains of a Celto-Ligurian hill fort built around 250 B.C. At the top of the archaeological site, an orientation table invites you to make the most of the splendid panoramic view of the Mediterranean.
You can also follow in the Romans' footsteps, taking the Via Julia that climbs up to the village of La Turbie through olive trees, lemon trees, orange trees and mimosas. Also don't forget to admire one particular olive tree which is a thousand years old: its trunk has a circumference of 11 metres!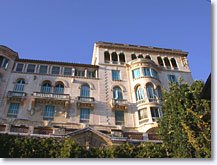 If you love the Belle Époque you'll be in heaven at Beausoleil. You must visit the Riviera Palace, a magnificent residence designed by the architect Georges Chédanne and built between 1898 and 1903 for the famous Compagnie des Wagons-Lits. In the winter garden protected by its vast glass roof and walls you can imagine you're a guest at one of the sumptuous parties that were held there during a period that everyone now agrees should be described as "Belle"!
What to see
- St Joseph sanctuary:
the church was built between 1913 and 1930 in a neo-Romanesque style and has some remarkable stained glass windows made by a masterchef craftsmen such as Mauméjean and Champigneulle.
- The Riviera Palace (listed as a Historic Monument since 1989, guided tours).
- Mont des Mules, its orientation table and above all its prehistoric Celto–Ligurain hill fort (listed as a Historic Monument since 1939).
- Roman remains in the districts of Terragna and Tenao:
coins, sculptures (bronze bust), fragment of funeral inscription.
- The Font Divina fountain
Leisure activities
Provencal market every morning.
Stade Andre Vanco omnisports stadium with its walks, flower beds, gardens and uninterrupted view of the sea.
St Charles swimming pool.
Larvotto beach (Monaco).
Many cultural, musical and sporting events.
Accomodations