Peille
18km north of Monaco, on the D53 via La Turbie. From Nice (exit Est on the A8 motorway), take the D224, go through Drap and then take the D21 on the right.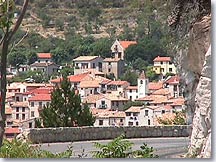 Peille is a superb medieval village clinging to the sides of a mountain in the hinterland of
Monaco
and
Menton
.
If you love and appreciate the charm of ancient villages, a visit to Peille is a must for you.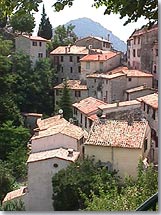 Passing under the ancient gateway to the village located at the foot of the rocky outcrop you'll soon discover other treasures of the village: its narrow streets, beautiful small shady squares, gothic drinking fountains, and imposing residences dating back to the Middle-ages... not forgetting some magnificently renovated Chapels.
From its ancient and glorious past Peille has conserved an interesting array of monuments from the remains of the village fortifications, the XIVth C. courthouse (the "Palais des Consuls") and the impressive robust form of the XIVth century "Palais des Lascaris" built on the edge of the cliff face.
From the view point you can appreciate a wonderful panoramic view over the pine forests and oak wood lands.
Take a walk in the village surroundings where 5 walking tours are available from 20 minutes to 3 hours and you'll appreciate the scents and aromas of the local landscape and flora.
What to see
St Marie's Church XIIth C.
St Sebastien's Chapel XIIIth C. (town hall)
La Misericorde Chape(oil mill).
St Joseph's Chapel, XVIIIth C.
Prehistoric and archaeological remains.
Leisure activities
Walking. Petanque.
Fetes, events and musical evenings.
Accomodations
Holiday rentals. Gites.