Peillon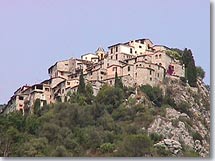 This magnificent fortified medieval village clings to a cliff face overlooking the Paillon de l'
Escarène
.
Visiting Peillon is a true voyage back in time with its tortuous narrow winding streets crossed by vaulted passage ways and wide staircases.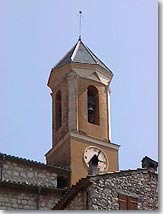 The tall stone built houses, stuck together in circular fashion seem to be literally carved out of the rock face.
The sun washed ochres of the facades, the stones and tiles of the roofs blend perfectly with the landscapes which surround the village.... Best time to visit is in the autumn to really appreciate the picture postcard setting of the village. Welcome!
It will be a real pleasure to wander around the narrow paved streets (en calade in french) in Peillon and you're sure to admire the beautiful ancient houses and the weathered doorway.
What to see
Chapel Penitents Blancs (1495).
Church de la transfiguration, XVIIIth C.
Leisure activities
Walking. Exhibitions and cultural events.
Fetes on the 1st August and 23 September.
Accomodations
Hotels.
Holiday rentals. Gites.
Campsite.