La Trinité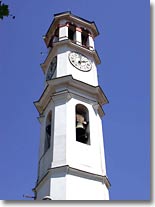 Built along the Paillon river, La Trinité today is an industrialised town in the suburbs of
Nice
, with modern low density housing.
If was formerly a hamlet in the municipality of
Eze
but was separated in 1818. At first it was called La Trinité-Victor in honour of Victor-Emmanuel 1st, the King of Sardinia, and then changed its name to La Trinité in 1951. This fast expanding small town is not really a major tourist centre.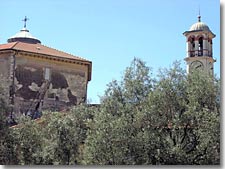 It boasts a church built in the baroque style that may be a copy of the "Gran adre di Dio" in Turin, a lovely fountain dating back to 1654, some peaceful little squares, a few coloured housefronts painted in gay colours... and even the ruins of a medieval castle.
If you take the old Chemin de Laghet road you will discover the remains of a watch-tower and drawbridge, both dating back to the 11th century!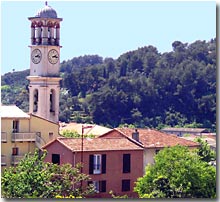 Finally a milestone still stands indicating the route of the ancient Julian way.
But La Trinité takes greater pride in Notre-Dame de Laghet, a monastery reached by taking a little road winding through the olive groves. It was built in the 17th century after several miracles took place on this spot. This "miraculous" reputation has continued to grow ever since, so that today it is the main centre of pilgrimage for eastern
Provence
and northern Italy.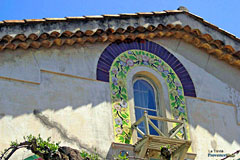 Whether or not you believe in miracles, you really should climb up to the
Sanctuary of La Madone de Laghet
. Its baroque church is delightful, with its statues of the Virgin, one of which is black, while the other is dressed. Butthe real highlight is the cloister, covered with 6,000 ex-votos inspiring both respect and admiration: a very touching sight.
And since miracles always happen in groups, you will also find in thismunicipality the recently renovated Astrorama, taking you to the stars ... or even to seventh heaven.
What to see
Parish church of Sainte-Trinité (listed as a historical monument).
Saint-Grat church (1848, Italian baroque).
Notre Dame de Laghet (17th century, and its small ex-voto museum.
Some of the ex-votos have been listed, and it is one of the largest collections in Provence).
Departmental nature park of La Grande Corniche (598 ha) extending
from Mont Vinaigrier to Mont Bataille: nature trail, walking trail,
chasm near the Maison de la Nature (caving), orientation table.
Fort at La Drete. Astrorama at La Trinité.
Leisure activities
Astrorama: activities and events concerning the stars and the sky.
Cultural events: book festival, youth festival, music festival. Cinema. Theatre.
Craft exhibitions.
The octave Thursday for Fete-Dieu: slug procession, custom dating back to the 14th century.
Permanent pilgrimages to Laghet, from Easter to All Saints' Day,
the 3 main pilgrimages take place on the Sunday of the Trinity, 29th June and 16th July
At Christmas, Provencal mass and vigil, with lamb procession.
Accomodations
Holiday rentals.
Accommodation at ND de Laghet.