Valderoure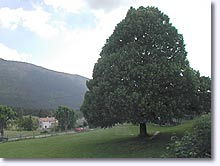 The commune of Valderoure which in French means
"valley of oaks"
, spreads out along the verdant plain of Lane where its small hamlets ooze all their charm: at Malamaire we're seduced by the ancient noble's house with its round tower ; at Valentin one can find the remains of the Chapel St Léonce and a Roman sarcophagus ; at
la Ferrière
you'll fall under the charm of a small Chapel.
Valderoure lines up its old houses along a slight rise overlooking a vast prairie, against the backdrop of a beautiful rocky cliff.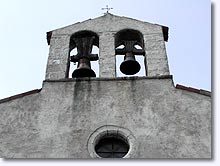 The village can be summed up as follows: a Rue du Lavoir and a square shaded by plane trees, a few stone houses with lavender blue and almond green shutters, a superb little chapel with two bells, a school and a town hall, a few beautiful old doors and some barns to do up, a beautiful natural setting that gives off lovely fragrances - tufts of
lavender
or climbing rose bushes - a Rue du Four and a huge lime tree standing proudly in a meadow - an ornament for an entire village! - and that completes your tour of Valderoure.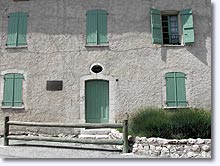 But to get in touch with the magic of this place, you have to listen to the inhabitants, young retired people from urban backgrounds for example, talking of the "joys of living in such a peaceful paradise"!
What to see
Remains of the St Leonce de Lerins priory.
Church of Valderoure.
The Valentin hamlet and its remains. Roman sarcophagus.
Leisure activities
Walks in the forest, on the Chandy plateau, on the plain and along the Lane.
Fair and fete in June and August.
Fishing.
Mountain biking.
Cross country skiing. Tennis.
Accomodations
Holiday rentals.