Caille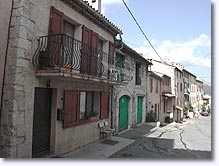 The view of Caille from a distance is superb, with its houses huddled together on a mound, perched above a vast plain. Caille is a lively village, endowed with several shops and restaurants.
It is peopled with children and petanque players "placing and shooting" their boules on the village square and calling to one another with their inimitable accent" !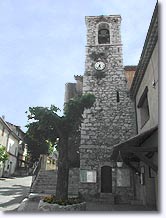 This is still an agricultural area and there are a few farms in activity around the village.
Its main street slopes gently downwards and has a very pleasant atmosphere to it, some of the houses are clearly very old, a few still requiring restoration: if you like old buildings, take note!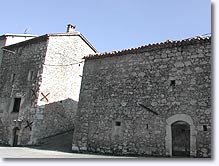 Also note, however, that the micro-climate here must be harsh in winter, if the size of the log heaps stacked in front of the doors is anything to go on: Winter in Caille, "ca caille" (brass monkey weather) !!!
But there is no time to get bored here, the district offers numerous leisure activities.
What to see
St Etienne parish church. Fontaine washhouse.
Remarkable door frames.
Leisure activities
Walks in the Audibergue massif (1642m).
Viewpoint and chasms at La Mouliere.
ULM school. Motorcycle (Trial). Sled dogs in the Gorges du Loup.
Cross-country skiing, downhill skiing.
Hot air balloon. MTB. Caving. Trial hikes.
Accomodations
Bed and breakfast.
Holiday rentals. Gites.