'; //-->
Auron
Alpes Maritimes Departement - Population : inh.



Ski resort on Saint Etienne de Tinée.
92 km from Nice, take RN 202 heading Digne/Grenoble, then the D 39. 2 daily bus shuttles with Nice. Helicopter transfer Nice-Auron-Nice available.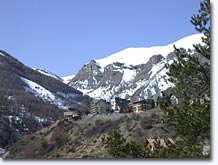 Auron is right in the middle of a majestic cirque of high mountains (up to an altitude of 2450 metres) and in winter offers you 135 km of ski runs.
In summer, hundreds of kilometres of footpaths weaving through spruces, pines and larches await you.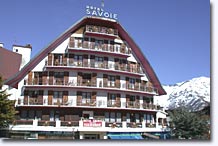 Auron has four skiing areas (Demandols, Sauma Longue, Las Donnas) and together with Isola 2000 is one of the department's sunniest and most popular ski resorts.


Auron was founded at the beginning of the thirties. It has a superb chapel dedicated to St Erige built from dressed stone, with a Romanesque bell tower and timber lath roofing, typical of the Alps (inside are some remarkable wall paintings).
The tourist office is also housed in a fine stone building with a shingle roof.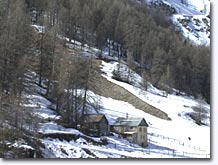 The rest of Auron consists of very smart chalet buildings with wooden balconies, where you will easily find accommodation, as well as numerous restaurants with terraces, where you can enjoy the high altitude sunshine.
In summer it's the hiking season, through meadows and forests where you will have the opportunity to admire ibexes, chamois deer, marmots, buzzards, hawks, etc. as well as 2,000 species of different flowers, 25 of which are very rare indeed!






What to see:
Chapelle Romane St-Erige, fresques (1451).
Oratoire du Pilon (17ème siècle).


Leisure activities:
Winter: 135 km of downhill ski runs in 4 skiing areas served by 21 ski lifts,
including 3 cable cars. Snow park. French Ski School.
Surf. Rackets. Ice rink, pony and sleigh trekking.

Summer: Swimming pool, tennis, horse riding, climbing, mountain biking, archery, fishing.
Pass card (with points) for summer sport acivities. Plenty of hiking routes.

For the children: Judo, quads, body sculpting, roller blading.
Basketball, volleyball, skating, hangliding.


Accommodation:

Hotels-restaurants.
Campsites.
Gites. Apartments rentals. Overnight gites.
2 refuges. 1 Snow caravan-campsite.



Neighbouring towns and villages:
Saint Etienne de Tinée (7 km), Isola (18 km).