Bonson
36 km from Nice, by the RN 202 for 20 km until the Charles Albert bridge, then turn left, cross the Var river and take the D17 then the D2.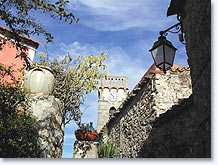 Bonson is a perched village typical of the Nice hinterland.
It clings to the Mont Vial mountain and is built lengthwise like a breathtaking viewing area, overlooking the Var and Esteron valleys from the top of a sheer drop of 300 metres.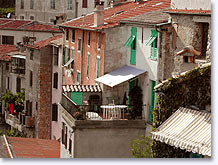 Although in the 11th century a fortified chateau stood where today's cemetery has been built, not all the traces of the past have disappeared in Bonson, since the large church with a square bell tower that towers over the village purportedly dates back to the 14th century.
Today you can walk round the village, along a street with a panoramic view.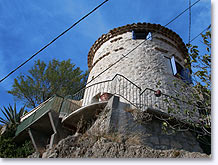 There is no excuse for not taking this walk up and down the village. It will enable you to discover Bonson's intimate streets that are still medieval even today, with their ochre, ivory and orange house fronts and the blue and brown shutters, covered passageways and stone lintels worn by time, terraces with breathtaking views, decorative pottery and earthenware jars where succulents grow.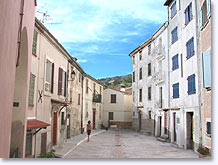 Similarly you will be impressed by the unforgettable panoramic view to be enjoyed from the top: faraway plains, where the Var and the Vesubie flow, and hills covered with olive and fig trees, some of which have been eroded into strange shapes.
An untouched natural setting, just a step away from the tourist-filled French Riviera!
What to see
Church of St Benoît (1494).
St Hospice chapel.
Recently restored Chapelle du Passet. Visits every day from 5 p.m. to 8 p.m.
The remains of a feudal chateau.
Leisure activities
Walking (Val d'Esteron paths to the Baisse, the Collet or Saint Hospice chapel).
Feast of St Benoit (end of August).
The olive tree festival (end of June).
Accomodations
Holiday rentals. Gites.