Gilette
38 km from Nice on the N202 and then the D17.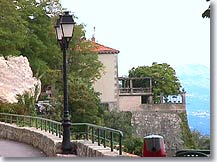 Gilette is a village which spreads along a rocky spur overlooking the the River Var and Esteron Valleys.
Dominated by the ruins of the ancient castle, the village offers wonderful views over the surrounding natural landscapes.
The village is full of character thanks to its narrow stepped streets, vaulted passageways and pleasant little squares.
Take time to admire the beautiful lintels, old fountains and the carefully restored houses.
What to see
Saint Pierre de l'assomption Church XVIIth century.
Saint Pancrace Chapel.
Leisure activities
Tennis. Sports area. Boules.
Saints' Fairs 12th May and 15 August.
Accomodations
Holiday rentals - Gites.