Revest les Roches
42 km from Nice, on the N202, the D17 and finally the D227.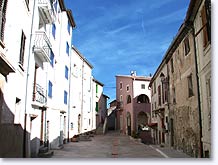 Perched on the slopes of Mont Vial, Revest les Roches seems nondescript when you just drive through it.
You must park in the terrace car park which doubles as a boules pitch and viewpoint, and then walk along the narrow streets that will lead you, once you have gone through some dark and very low covered passageways, to a long peaceful little square, lined with pretty coloured house fronts.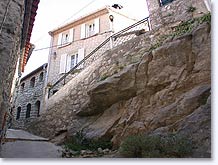 Carry on down a few lazy stairways, and via a gentle slope you will end up right at the other end of this astonishing village. At your feet is a breathtaking sheer drop, where the finest houses in the village cling, built from the authentic local stone.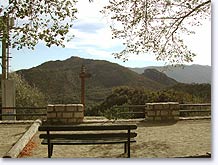 They enjoy an uninterrupted view of the Esteron valley as well as absolute tranquillity, between the cypress hedges and the Virginia creepers.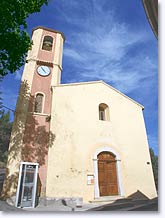 As you walk back up, you can admire a 15th century two-storey house with arcades, a beautiful fountain dated 1849 and a baroque church with a square bell tower.
Finally, the more courageous amongst you can put your balancing skills to the test on the Hirondelles suspension bridge that spans the river!
What to see
The church of St Laurent.
The olive oil mill, fountains.
Hirondelles suspension bridge.
Leisure activities
Walking (Val d'Esteron paths).
Play area. Tennis. Petanque.
Patron saint's feast day on August 10th.
Accomodations
Holiday rentals. Gites.