Rigaud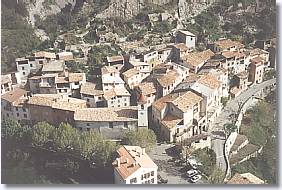 Rigaud is a small hill top village looking over the Cians gorge.
In ancient times (1247), it was the headquarters of the former knights and the most important in the area. The former chateau is now in ruins.
In the village itself, let yourself be led by the small flower lined, paved streets, discover the vaulted passageways, medieval houses as well as a beautiful series of ancient doorways with with sculptured lintels from different epochs.
What to see
Church and ancient Chapels.
Medieval houses.
Dina Plateau.
Leisure activities
Walking and Hiking.
Childrens' play area.
Accomodations
Holiday rentals. Gites.