Sigale
62 km from Nice, take the RN202 and then the D17 over the Pont Charles Albert (30mn) towards Roquesteron.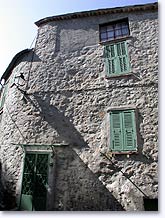 Fortified habitat known since the XIIth century, possessing a castle that would have been destroyed in the XVth century and of which there remains some ruins on a rocky spur, Sigale is still today a superb medieval village inlaid in a rocky cliff, overlooking the green and wooded valley of Esteron river.
When you go to discover Sigale, you will need breath and good calves, as the stair alleys are numerous and sometimes vertiginous. But what a reward to be able to admire very beautiful Gothic houses, often perfectly restored, which most often enjoy a panoramic view from the top of their ramparts.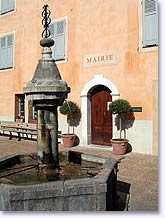 From porches to vaulted passages, where floats an unspeakable medieval atmosphere, after many turns and detours, nooks and crannies, you will inevitably arrive at the town hall square (nicely repainted with pastel colors), in front of which is a large round fountain and its covered wash-house, dating from 1583 and restored in 1811.
It is the second oldest fountain in the County (the first being that of
Peille
), knowing that the fountains of
Nice
only date from the end of the 18th century, this old lady deserves that we stop to contemplate her .
You will discover the superb and very old church in a pure Romanesque style with a facade of stones worn by time and on which weeds grow. It dates from the 13th century with the addition of a collateral at the beginning of the 16th century. The chapel of penitents which was attached to it has unfortunately been destroyed.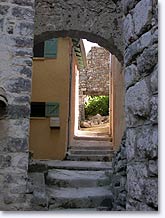 From here you will also have a breathtaking view of the perched tower of Sigale, remains unique of the ancient castle that gives its character to this wonderful village.
You should know that the village is the result of the meeting of two old habitats, Sigalon and Sigale, each with its castle. That of Sigalon (to the north) was ruined quite early, but the second (where the village bell tower now stands) was active until the Revolution, when Republican troops sacked the village and demolished the fortifications.
Today Sigale evokes the South in all its splendour: olive trees, lavender and climbing vines, fig trees, cypresses and cicadas of course. A light air, of great purity, the crazy charm of old stones, a feeling of intimacy and security, Sigale is well worth a love at first sight.
What to see
Remains of the 14th and 15th century ramparts and fortified gates.
St Michel's Church 12th century.
Entrevignes' Chapel 15th century.
The ancient "pont du Riolan"
Leisure activities
Hiking and sign posted footpaths.
Tennis.
Fishing. Bathing in the river.
Sigalois museum.
Fete in June and end August.
Accomodations
Holiday rentals. Gites.