Roquesteron Grasse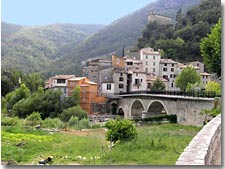 The little village of Roquesteron-Grasse (now called La Roque en Provence) overlooked by its perched church looks as though it has been clinging to its rock since the beginning of time.
To discover the delights of this medieval village with its defensive architecture, you must first cross the "pont de France", a bridge the foundations for which date back to the 18th century, before walking along the steep narrow alleyways from Place St Francois, where the "Maison du Prieur" stands.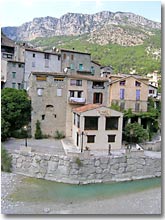 It is said the Nice troubadour
Raymond Féraud
, lived here. He was a monk from Lérins, a member of the family of the lords of
Ilonse
who around 1300 wrote a
poem 4125 lines long in the Provencal language
!
On your way, you will have time to admire the ancestral homes built from grey dressed stone, an old wash-house or ancient lintel door, a covered passageway and the village bread oven.
You may be curious to know where this name Roquestéron-Grasse comes from, since all that separates it from the neighbouring village of Roquesteron (careful, no accent on the "e"!) is the river Esteron.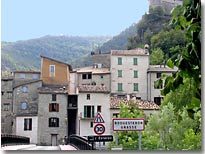 In Roman times the village stood on the steep rock overlooking the river. In the Middle Ages, the ancient "castrum de Rocca Sterone" was a stronghold of the Rostaing family from
Thorame
-
Castellane
, and then of the Grimaldis from
Beuil
in the 15th century. At the end of the 15th century, the village started to develop on both sides of the Esteron.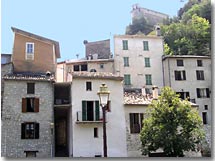 When in 1760 the Treaty of Turin moved the border between the Kingdoms of France and Sardinia to run along the bed of the Esteron, La Roque was split in two. To the east was Rocca Sarde, later known as Roquesteron-Puget then Roquesteron, while to the west was Roque en Provence, subsequently called Roquestéron-Grasse.
All that remains of this glorious past today is the ruins of the castle on the rock, and the church of Sainte Pétronille that you can reach by climbing up a narrow steep path.
But the reward is well worth the effort. As you get your breath back, you can savour the magnificent panorama of the Esteron valley and the neighbouring village.
To end your visit while remaining in the past, return to
Nice
along the right bank of the Esteron via
Conségudes
,
Les Ferres
and
Bouyon
, three villages that like Roquesteron-Grasse were part of the now defunct
County of Nice
.
What to see
Church (11th and 12th century).
Ancient "castrum" in the olive neighbourhood.
Leisure activities
Walks: L'Esteron. Ancient tile works.
The Gerbiere summit. Mule tracks.
Canoeing and kayaks. Fishing.
Accomodations
Holiday rentals. Gites.