Châteauneuf d'Entraunes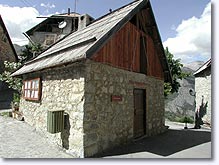 Its un unpretentious mountain village where both the old farmersand the children will greet yous. Chateauneuf deserves your attention. It boasts a superb municipal oven with a shingle roof, a fountain and its drinking trough carved out of a tree trunk, some newly repainted house fronts and several old barns (some of which need restoring), the very small St. Joseph chapel surrounded by a garden, a few wooden balconies, a door dating back to 1774, etc.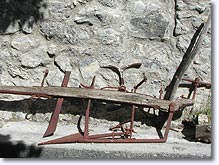 A quick visit to the "Grain of Salt" museum will enable you to discover our grandmothers' lingerie, ancient objects and even some rare butterflies!
Chateauneuf d'Entraunes has a marvellous south-facing aspect, benefitting from air that is as pure as it is invigorating. It's the hiker's paradise. Whether you like short walks or long slogs you have an embarrassment of riches to choose from, between Cime de Pal (2818m), Mont Rougnous (2673m), and Cime de l'Aspre (2468m), etc.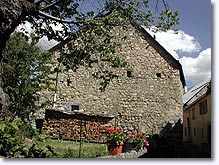 The less sporty can visit the Moulin de la Barlate mill (35 minutes' walk), which was a working mill from 1672 and 1954... and still functions to this day! Bird-lovers won't want to miss the "Collet de Sen", a preserved biotope covering some 2.7 km of cliffs, where you will be able to observe (in silence!) royal eagles, falcons, crag martins, sparrowhawks and sometimes even bats!
What to see
Saint-Nicolas church (early 16th century), containing an altarpiece by Brea: "Christ of the five wounds".
St Roch chapel, small St Anne church. Hamlet of Tourres.
Grain of Salt museum (local traditions, 16th century library).
Moulin de la Barlate mill (17th century, restored).
Leisure activities
Numerous hiking trails (the GR 52A hiking path passes through here).
Story-telling evenings or "stars evening"
Accomodations
Hiking gites.
Holiday rentals.
Municipal inn.