Clans
53 km north of Nice on the middle Tiny road - RN 202 then the D2205.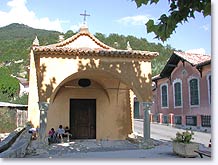 Facing due south on a broad high altitude plateau, in the centre of a pre-Alpine cirque, Clans is a large market town halfway between the sea and the ski resorts.
Clans is a listed village that is also lucky to have kept a large youthful population as well as dynamic shops and businesses.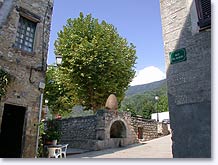 When you arrive, you cannot miss the enormous "du Verger" square, shaded by plane trees over a hundred years old, where children play, the ancients sit on benches and chat, and the boules players call out to each other around several gurgling fountains.
Its religious heritage is impressive, if only through the presence of the oldest collegiate church in the
PACA region
since the year of Our Lord 1137 and in addition the entire village is worth a long visit.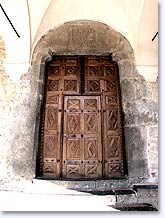 You can admire the medieval streets of Le Barri, in particular the front of
Queen Jeanne
's house, an old wash house as well as an olive oil and flour mill that is still in working condition. Clans also keeps up with Contemporary Art. It has an Experimental Workshop where audacious works are produced.
Better still, the town has asked the well-known artist from Nice,
Patrick Moya
, to design modern frescoes for the chapel of Saint-Jean-Baptiste; a free interpretation of the story of St John the Baptist, where the characters are at the same time self-portraits of the artist.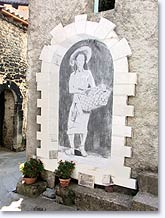 But the highlight of your visit will surely be the impressive Notre Dame de la Nativite church blessed by Pope Innocent II, whose foundation stone was laid in the 12th century, and which owes its title of "collegiate church" to the fact that, for centuries, it was administered by a college of 4 priests.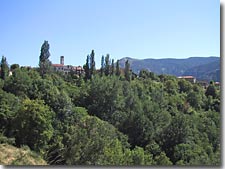 You will hear all about this from the guide who gives a free guided tour (with purchase of a postcard at the exit). Inside he will show you a very rare fresco to admire, representing a 13th century hunting scene, as well as baroque style liturgical furniture.
What to see
Notre Dame de la Nativite collegiate church.
St Jean-Baptiste chapel (frescoes by Patrick Moya).
Several other chapels (St Sebastien, St Antoine, Des Penitents, St Michel and Ste Anne).
Chapelle Moya: https://www.moyapatrick.com/chapellemoya.htm
(read the book "La chapelle MOYA" by Florence Canarelli - Melis books).
Olive oil and flour mill.
Information for a guided tour of the chapels (free) :
at the tourist office: +33 (0)6 46 44 75 05 / +33 (0)9 63 66 09 78
Leisure activities
Walking (Moyenne Tinee paths ), horse riding.
Walks and excursions (in the Tournairet forest or at Granges de la Brasque).
Mountain-biking. Football stadium. Tennis. Swimming pool.
Boules. Fishing. Rochabru climbing site.
Organ and jazz concerts. Exhibitions.
Festivals of bread, wood, heritage.
Pilgrimage to Sainte-Anne (end of July).
Patron Saint Festival of the Nativity (last Sunday in August).
Accomodations
Gites in the heart of the village.
ed and breakfast (at Pont de Clans).