Falicon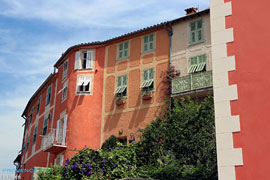 A visit to this village - perched on a rocky mound facing Mont Chauve (854 metres high) and still protected by defensive walls punctuated by fortified gates - requires strong leg muscles. But you will not be disappointed by its fine stone houses and its beautifully restored pastel housefronts - some of which are decorated with superb trompe-l'oeil frescoes - nor by its cobbled alleyways and stairways, vaulted passageways, little fountains and ancient carved doors, nor by its baroque style church with a square belltower.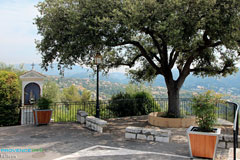 You will no doubt be impressed by the panoramic view of
Nice
and the coast that can be enjoyed from the Bellevue plateau (what an appropriate name!), right at the top of the village.
Sit for a while on the bench shaded by an ancient oak tree, dreaming of the time when Queen Victoria arrived in the village by horse-drawn carraige to drink a cup of tea. The "Thé à la Reine" square is so named in homage to this famous visitor.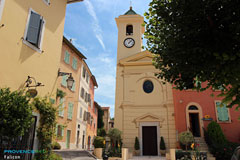 Another prestigious visitor was the writer
Jules Romains
.
The action of his novel "La Douceur de Vivre", the eighteenth volume of his famous work "Les Hommes de Bonne Volonté", is set in this perched village.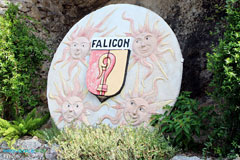 The surrounding countryside is magnificent and several wonderful viewing points are to be found.
Take advantage of the waymarked paths to discover every corner of this area, take a stroll to the pretty country chapels surrounded with aromatic plants growing wild ... it's beautiful and it smells good!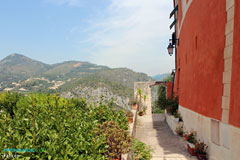 How delightful it must be to live in this beautiful environment of hills covered with olive and fig trees, peaceful and serene despite being so close to a large city, where the air is pure...
... or even just to stay in the area for a while, especially as Falicon has a restaurant with an excellent reputation.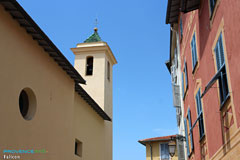 Also, if you like mysteries, perhaps you'd like to try to solve the mystery of the small equilateral pyramid that sits atop Les Ratapignata cave.
It is one of the very few pyramids that exist in Europe, and to this day no-one has been able to explain it!
What to see
Church of La Nativite 1624 with pyramidial square belltower (inside are 17th century paintings including a beautiful Nativity, 17th century engravings by the Evangelists, a font dating back to 1606, and a Renaissance baptistry).
Sainte-Croix Chapel 1619.
St-Francois Gate, ancient well. Small fort (18th century).
La Bastide, the 16th century castle and residence of the Tondutis.
Ligurian hill fort of Le Rayet and Chateaurenard.
Mont Chauve strategic route (854 m).
Leisure activities
Hiking. (the GR5 hiking path starts from the crossroads at Aire St-Michel).
Playground. Petanque.
Concerts at the church. Patron saint's feast day on 22nd January.
Carnation festival in March.
Festival of Saint-Jean's Fires (June).
Falicomedies (theatrical performances, September).
Accomodations
Gites. Holiday rentals.