Rimplas
From the A8 motorway, take the St Isidore exit and then the RN 202 and the D 2205 up the Tinee valley or the D2565 up the Vesubie valley.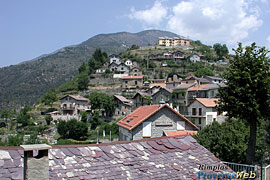 All the good fairies have bent over this little village of Rimplas: integrated in a staircase on a mountain ridge with vertiginous views of the Tinée Valley on one side and the Val de Blore on the other side.
Rimplas also benefits from a "thousand-year-old history": destroyed in the year 1000 during a conflict between Lords, stronghold of a
Count of Provence
who owned a castle there, stopover on the famous salt road (which took the ridges to reach Italy).
Rimplas is today a marvel of harmony, with its cobbled streets, Parma lauze roofs and pink stone walls.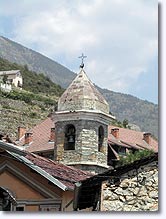 The bell tower that we see pointing has an astonishing octagonal shape while the church of Rimplas, dated on its pediment from 1713 - even if its first construction dates back to the 11th century - has a superb painted Baroque facade, a sundial which announces "Sol me Regit, Vos, Christus", and the oldest bell in the department.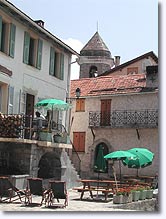 You will enjoy strolling through these pretty medieval streets where a channel of running water runs: vegetable gardens and singing fountains, mysterious covered passages, cobbled stairs leading to the rue des Granges or the lane de la Treille, magnificent facades pink stones or enriched with faux marbles painted in trompe-l'oeil ...
Rimplas exudes incredible charm… and the surrounding nature lives up to it, with its tall trees - oaks, chestnuts, aspens and hazelnuts - its air of perfect purity and its superb mountain ranges.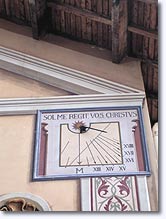 Outdoor sports enthusiasts will be happy to learn that Rimplas, a town in the
Mercantour National Park,
is the starting point for
many hikes
.
And military history buffs won't miss Fort Rimplas, which is easily reached on foot and from where there is a 360° view - truly "impregnable" - of the high surrounding valleys!
What to see
Church of Rimplas (inside, a listed altarpiece from the school of Louis Brea,
a 12th century wooden statuette of Saint John the Evangelist and the bell
the oldest in the department, listed as a historical monument).
Rimplas Fort built in 1930.
Chapels la Madeleine and St Roch
Leisure activities
Walking and Hiking.
Tennis.
Bread and food Fete in May
Fete St Roch, 11th and 12th August.
Accomodations
Hotel.
Holiday rentals. Gites.