Valdeblore
A8 Motorway, exit St Isidore, take the RN 202 and the D2205 up the Tinée valley or the D2565 up the Vesubie valley.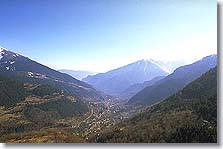 Valdeblore is a large vast with a ski resort, La Colmiane and 4 small villages: St Dalmas, La Roche, La Bolline and Mollières.
You are in a superb natural setting of the Val de Blore with mountains, alpine lakes and ridges on the frontier with Italy.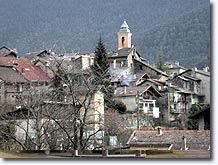 An environment which is truly "Picture Postcard", reminiscent of Switzerland.
The
Mercantour National Park
and its forests of pines and spruce makes up nearly half of the area. Splendid signposted walks and hikes are available, to help you appreciate this special environment and to visit each of the charming small hamlets.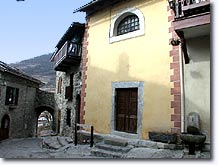 La Bolline
(Alt 1 000m) : A plateau Village with groups of very beautiful stone built houses and wonderful sculpted lintels.

La Roche
(Alt 1 100m): Village clinging to a rocky outcrop with a few tall houses with wooden balconies and typical mountain style "lauze" roofs.

St Dalmas
(Alt 1 300m): Ancient fortified village with the remains of the village walls, fortified gateway, perimeter way and magnificent medieval covered passageways.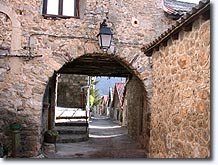 Mollières
(Alt 1 600m): Isolated pastoral Hamlet set in profound natural surroundings. Wonderful rich variety of flora and fauna, very few houses apart from a few summer barns (Mollières is extremely difficult to access in winter).

La Colmiane
(Alt 1 500m): Winter Ski resort with 21 pistes, 10 ski lifts and 15 km of cross country ski routes. In summer Colmiane is an extremely pleasant resort offering a wide variety of activities.
What to see
La Bolline:
Church St Jacques le Majeur and Chapel des Penitents.
La Roche:
Chapel la Misericorde (penitents noirs).
St Dalmas:
Roman Church IXth century.
Ruins of the ramparts and fortifications.
Leisure activities
Hiking. Horseback riding. Mountain biking.
Trampoline and Bungee.
Climbing School fully equipped, + 3 climbing sites around La Colmiane, Via Ferrata. Paragliding.
La Colmiane : Climbing. Via Ferrata. Tree climbing. Summer sledging.
Mountain biking. Paragliding. Mini-golf. Rding. Bungee trampoline.
La Roche : Farm visit.
La Bolline : Movie theater. Swimming pool.
During the winter:
Skiing.
Song Festival and Christmas music.
During the holidays: torchlight and fireworks and entertainment on the snow front Snow. Carnival. Chestnut Festival in October.
During the summer:
Race walking. Downhill mountain bike race. Triathlon.
Festivals Festivities.
Accomodations
Hotels.
Holiday rentals. Gites.
Campsite.