Miramas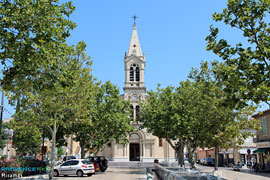 Miramas is a small industrial town at the northern end of the Etang de Berre between
Salon de Provence
and
Istres
. Miramas grew in the 20th century around a major marshalling yard on the
Marseille
-Lyon railway line.
There are two places called Miramas: the old village, Miramas le Vieux, and the modern town of Miramas on the plain (they are 2 km apart).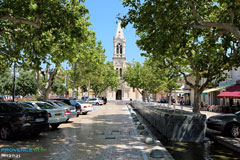 To reach the town centre of Miramas, you'll take the main road bordered by flower-beds, cleverly maintained with its landscaped roundabouts.
A large main road with plenty of shops and cafes and several plane trees goes through the heart of Miramas.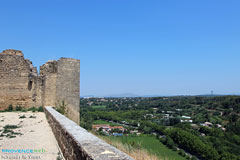 Nearby, the big town hall square. Don't spend too much time in the town. From the tourism point of view Miramas le Vieux is much more interesting.
When you leave the town heading for Miramas le Vieux you will go through verdant countryside, with fields of corn and olive groves..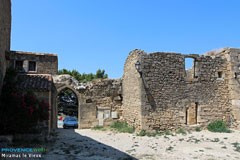 After 2 km, on the left you will see the old village in the distance, on its rocky outcrop. It has a magnificent panoramic view of the Etang de Berre and the whole of the Crau plain. It's certainly worth the detour.
As soon as you arrive in the village, you will discover the ruins of the medieval defensive walls, covered with well-preserved stone facing..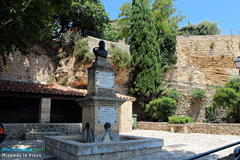 At Place Fernand Julien (with its delightful ice-cream seller's terrace) you will be able to sit back and admire the village.
Miramas le Vieux has been lovingly restored to preserve the character of the village.
You'll discover beautiful old houses with a great deal of charm. You can explore the ruins of the ancient medieval castle, the oil mill, the wash-house. Don't miss the 15th century parish church, and the 12th century chapel dedicated to Saint Julien.
What to see
Miramas le Vieux: remains of the medieval castle, wash-house, oil mill.
15th century church. 12th century St Julien chapel.
Panoramic view of Etang de Berre.
Railway collection (SNCF depot).
Leisure activities
Market on Thursday and Saturday morning (town of Miramas).
Hiking, horse-riding and mountain-biking.
18-hole golf course. Tennis.
Summer events.
Early November: Santons Fair May: flower show and flea market.
October: antiques fair.
Accomodations
Hotel.
Bed and breakfast.
Gites and holiday rentals.