'; //-->
Puyloubier
The Bouches du Rhone Departement - Population : 1,959 inh.



20 km East of Aix en Provence by N7 or A8 (exit Trets-Fuveau) or on the D17 which follows the Sainte Victoire Mountain.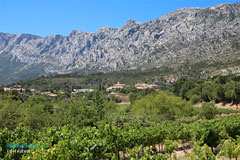 Perched on an an outcrop at an altitude of 400 meters Puyloubier is pleasantly located at the foot of the green pastures leading up top the Sainte-Victoire Mountain.
Surrounded by vast woods and rocky landscapes, Puyloubier offers a variety of fantastic wild and preserved landscapes.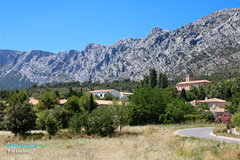 Puyloubier is one of the points on the Cezanne trail which starts at Aix and which via the communes in the Aix area visits the places where Cézanne lived and worked.
Puyloubier was undoubtedly one of the places that must have inspired him ... you will be here under the bluish and gray rock masses of the Sainte Victoire that he knew how to paint so well.


Today, these heights also inspire lovers of climbing and paragliding, Puyloubier has naturally become a meeting place for these lovers of sensations.
Many chapels and oratories are to be discovered in Puyloubier and will be excellent pretexts for beautiful walks through the countryside that surrounds the village.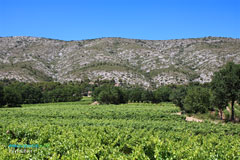 You can visit the Institution of the Invalids of the Foreign Legion installed since 1954 in the castle of the "General" which gathers a museum of the uniform, workshops of ceramics, binding and ironwork ... amazing!
Towards Pourrieres, you can visit the Institution of Invalids of the Foreign Legion which was opened in 1954 in the "Général's" chateau which seems to be a uniform Museum, as well as ceramic, binding and wrought iron work workshops!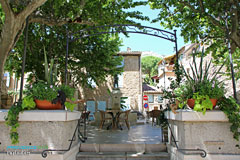 You will find a quality Côtes de Provence AOC wine produced by its cooperative cellar and its 6 special cellars.






What to see:
Hermitage Chapel of St Ser, XI° century.
Saint Pons Parish Church.
St Pancrace and St Roch Chapel.
Institution of Invalids of the Foreign Legion
(Uniform Museum , bookbinding and wrought iron workshops...).


Leisure activities:
Walking, Mountain Biking.
Tennis. Football and basketball court.
Climbing routes, archery.
Paragliding landing area at Saint Ser.
Saint Pancrace pilgrimage in May.
Wine festival in May.
Village fete first Sunday in September.
Summer events: Local artists' exhibition each weekend in the oil mill.
Sainte-Victoire Salon : 3 weeks in September (contemporary art, homage to provencal artists) .


Accommodation:

Bed and breakfast.
Holiday rentals.
Campsite.


Neighbouring towns and villages:
Pourrieres (6 km), Rousset (8 km) and Trets (9 km).