'; //-->
Carnoux en Provence
The Bouches du Rhone Departement - Population : 6,742 inh.



18 km from Marseilles via the N8 or the A50 and 8 km from Cassis.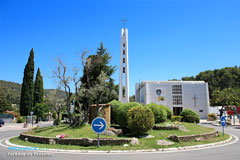 Carnoux is a pretty town strategically situated 18 km from Marseilles and 8km from Cassis and the sea-side.
Surrounded by scrub-land and fragrant hillsides, Carnoux is a modern town with a series of tidy avenues encircling the town centre and its gardens.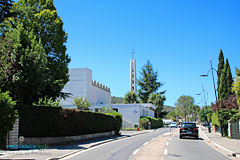 Several residential areas and new subdivisions surround the town.
Carnoux is not really on the tourist trail. Its major asset is to be near Marseilles (France's second largest city), and to offer a pleasant life-style close to nature for those who work or attend the Marseilles University.

In the beginning, Carnoux was created by a group of French people who were repatriated from Marocco in 1965, and who wanted to settle in Provence.
They pooled their resources and bought 300 hectares of land from Aubagne and Roquefort la Bedoule. Without any subsidies or public aid, they courageously and intelligently built the major part of the town's infrastrucutre which then enabled them to invite their compatriots to come and live in Carnoux.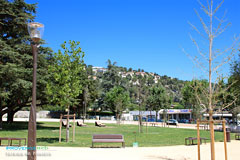 The first municipal council with an idential status to other French councils was only set up in 1967.
Perhaps this explains why you will not find "Historic sites" to visit !






What to see:
Notre Dame d'Afrique chruch (1964).
Memorial aux Morts d'Outre-Mer.


Leisure activities:
Hiking, horse-riding, mountain biking.
Forest-park and nature walks.
Grey-hound racing. Tennis. Swimming pool.


Accommodation:

Hotel.
Furnished apartments. Holiday rentals.
Rural holiday cottages (gites).


Neighbouring towns and villages:
Roquefort la Bedoule (4 km), Aubagne(6 km) and Cassis (7 km).