Meyreuil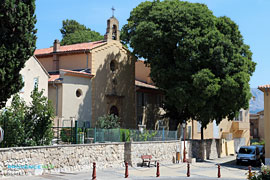 Situated near both
Aix en Provence
and
Gardanne
, Meyreuil is a pretty Provencal village.
At the same time however, it is home to a thermal station which has the highest chimmney in Europe (300 metres), which unfortunately spoils the countryside.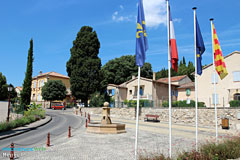 It is a shame because Meyreuil is surrounded by a charming natural environment and some historic treasures which are worth a detour and will soon make you forget that you are in an industrial zone.
The village is built on an attractive hill-side, surrounded by typical Provencal houses which over-look the plain.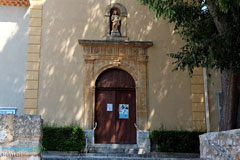 You will discover some lovely bourgeois properties not far from the town, as well as some newer housing developments.
In spite of the major high-ways, Meyreuil has managed to preserve its calm atmosphere with the countryside, vegetation and inhabitants all typical of the region.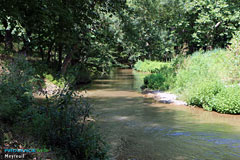 The road which leaves the N7 and which leads to Meyreuil is sublime. You will cross the Domaine de Montaiguet forest (1830 hectares). These delightful wooded valleys are situated only 5 minutes from the busy high-ways.
You can also enjoyably spend some time in the Paul Arene park which is especially pleasant for family picnics. .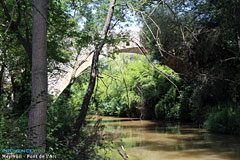 From Meyreuil you have an excellent view of
Mount Sainte-Victoire
. You can walk along the
Arc river
, but most importantly, don't miss the famous "
pont des Trois Sautets
" (1655) painted by
Paul Cézanne
.
This is the same bridge which also inspired Winston Churchill. The bridge is today classified as an historic monument.
Don't leave Meyreuil without having tasted
La Palette wine
. Although it is a small appellation, it has a top reputation.
What to see
Animated craft crib.
11th century Roman Chapelle de Saint-Marc. Eglise de Saint-Marc (1689).
Maison du Patrimoine Culturel et des Traditions (Liturgical objects).
Le pont (bridge) des Trois Sautet (1655) painted by Paul Cézanne and...Churchill.
Leisure activities
Tennis. Boulodrome.
Market, Tuesday morning in the village centre.
Accomodations
Hotels.
Bed and breakfast.
Vacation rentals.