'; //-->
Grans
The Bouches du Rhone Departement - Population : 4,562 inh.



6 km South-West of Salon de Provence via the D16.


Grans is small peaceful village in the middle of the Bouches du Rhone departement, between Salon de Provence and Istres. You will immediately be struck by how charming Grans is.
Its typical Provenšal houses are harmoniously arranged giving the village great character.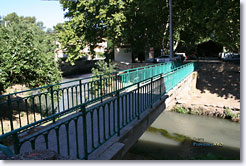 As you stroll along the narrow alleyways of Grans in the oldest part of the village, you will come across five magnificent fountains, and discover some remarkable sets of decorated house fronts (late 18th-early 19th century), at Cours Camille Pelletan, Place de la Fontaine d'Or and Rue du Four.
These beautiful bourgeois homes once belonged to landowners made wealthy by the olive oil trades.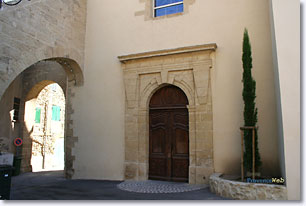 Grans is proud of its carefully restored architectural heritage and continues to maintain certain traditions. In the centre of the village is an olive oil mill, a superb 17th century building where excellent traditionally made oil is produced to this day.
The flour mill is also still in working order. It lies in the verdant Touloubre valley, and grinds organic flour in the traditional manner, with its massive grindstones driven by the river. It dates back to the 16th century.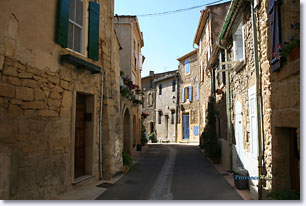 A superb and very enjoyable stroll awaits you, starting from the Mary Rose fountain along the banks of the Touloubre.
Roughly 20 km of hiking and horse-riding trails are marked out around the village, enabling you to appreciate the beautiful countryside and the peaceful atmosphere.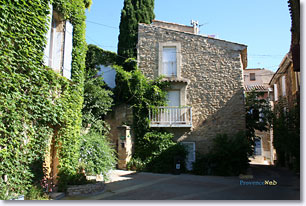 Grans is both far from the madding crowd and yet close to major roads, making it an excellent base from which to explore the region.
In less than an hour, you will be able to reach Aix en Provence, Arles and the Camargue, St Remy de Provence, Les Baux de Provence and the Alpilles, not forgetting the famous Luberon villages.
Grans is also not far from the sea, so you can enjoy boating and windsurfing, watch a fishing competition or Provencal water jousting, or discover the many summer festivals.






What to see:
Portal of Chapelle Ste Anne (XVII°) and its fortified bell-tower with campanile(1664).
Church of St Pierre-es-Liens (1772).
Decorated neo-classical house fronts.
Market on Friday morning.
Farmers' market on Tuesday from 4 pm.


Leisure activities:
Hiking (long range hiking path GR6) and mountain biking .
Petanque. Summer events.


Accommodation:

Holiday rentals.
Bed and breakfast.


Neighbouring towns and villages:
Lancon de Provence (6 km), Cornillon-Confoux (8 km) and Miramas (9 km).