'; //-->
Orgon
The Bouches du Rhone Departement - Alpilles Nature Park - Population : 3,145 inh.



18km East of Saint Remy de Provence via D99 and the N7.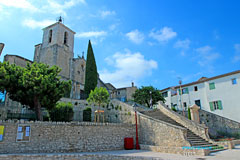 Orgon is a small market town on the banks of the Durance river, on the border between the Luberon to the east and the Alpilles to the west.
The N7 passes through Orgon, which is strategically placed right next to several top tourist spots not to be missed. It makes a practical picturesque base from which to visit the heart of Provence with ease.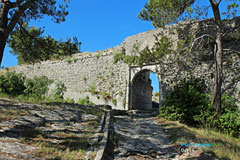 Orgon is a very old village, where traces of the Neolithic period and the Roman occupation have been found (statues, coins, burial sites, etc.).
Its chateau played an important role in the 13th century, both as a stronghold and a prison, when it was a residence of the Knights Templar.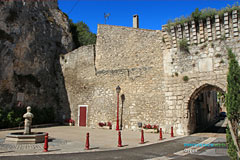 Then as the centuries passed and different seigneuries occupied it, the château of Orgon and then the church were in turn demolished and reconstructed, and demolished once more despite their fortifications.
From this turbulent past, Orgon has gained a substantial historical heritage. You immediately become aware of this on entering the village. The ruins of the Duc de Guise's castle are close by, and above the village you will see the fortified walls and gates that protected the town: Ste Anne's gate, The Angel's gate, Hortet gate...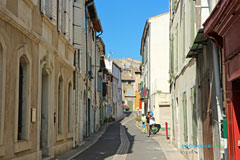 Strolling through its long narrow streets, you will see some beautiful old houses, some of which have Renaissance facades and windows. Along the way there are some commemorative plaques that will remind you of a few tragic episodes from Orgon's history.
Your walk will lead you to the village square where you will find the Gothic style church: ND de l'Assomption (1325) with its beautiful bell tower (1660), as well as the tourist office and a few shops.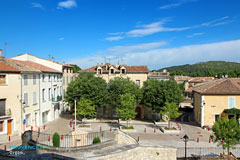 A little higher up, behind the church, you will be able to take the Beauregard path, made entirely from stone and lined with 16th century oratories.
It will lead you to the famous Notre Dame de Beauregard chapel, (the same chapel you see from the motorway looming above you as you approach the Cavaillon exit).






What to see:
Notre Dame de Beauregard chapel.
Notre Dame de l'Assomption parish church (1325).
The ruins of the Duc de Guise Château.
St Gervais chapel (15th century). St Roch chapel. St Véran chapel.
The Hortet gate. The Angel's gate. Ste Anne's gate.
Renaissance facades. Fortified walls.
Automobile museum.
Orgon village museum.


Leisure activities:
Wednesday morning market.
Hiking. Climbing.
Horse riding. Tennis. French Bowls.
Summer entertainment.
Arena. Exhibitions.


Accommodation:

Hotels.
Bed and breakfast.
Holiday rentals.
Campsites.


Neighbouring towns and villages:
Plan d'Orgon (4 km), Cavaillon (7 km), Sénas (7 km), Mollègès (8 km), Saint Andiol (9 km) and Eygalières (9 km).