Saint Chamas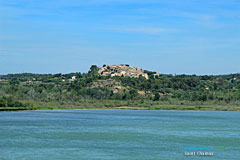 Flanked by a chain of coastal hills, Saint Chamas is a small village on the northern shores of the Etang de Berre.
The village is divided into two parts by a hill riddled with caves. On one side, it looks out into a pine forest and hills and, on the other, onto a pleasant marina.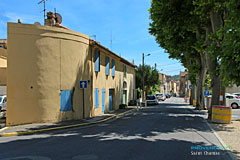 Strolling through the streets, you will come to the main road (Rue Voltaire, which continues as Rue Gambetta), lined with little shops.
Pretty little squares (such as Place Betirac and Place de l'Eglise) lend the village a feeling of airiness and give the centre charm..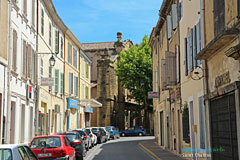 The streets are for the most part narrow, cool and shady and the houses are in neat rows with smartly painted shutters.
There is a peaceful atmosphere, not too lively perhaps, but tranquil and pleasant... in a word, typically Provencal.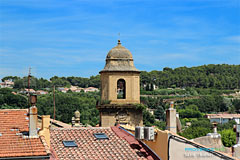 St Chamas boasts the remains of its mediaeval walls and some ancient cave dwellings and is famous above all for its Roman bridge across the River Touloubre. The Pont Flavien was constructed in the 1st century BC under Emperor Augustus. It has been restored numerous times and is built of white stone with a yellow limestone arch.
You will see it on the outskirts of St Chamas between the D10 and the D15 (going towards
Lançon de Provence
via
Cornillon Confoux
).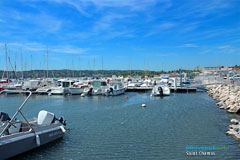 St Chamas has an attractive little harbour, with fishing and sailing boats bobbing against one another.
Lush lawns, flowerbeds and parks are well kept and smarten up this side of the Etang de Berre.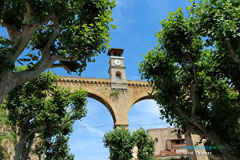 To enjoy a beautiful view of the lagoon and the plain surrounding it, climb up to the Plan de L'Horloge aqueduct.
From 23 metres up, you'll have a commanding view of St Chamas... and it's a pleasant walk.
What to see
Flavien bridge.
Plan de l'Horloge aqueduct.
Caves. Church.
Marina.
Leisure activities
Market on Saturday mornings (Rue Gambetta).
Walking and mountain biking.
Marina.
Summer events.
Accomodations
Bed and breakfast.
Vacation rentals.
Campsite.