'; //-->
Mimet
The Bouches du Rhone Departement - Population : 4,697 inh.



30 km North of Marseille, between Roquevaire (16 km) and Gardanne (8 km) via the D8.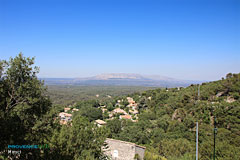 There is no need here to look up in order to see the countryside - Mimet is the highest village in the department.
Turning its back on Marseilles, the village looks out over the plain of Aix-en-Provence. It is ideally situated for exploring the Etoile chain and is a favourite rallying point for walkers.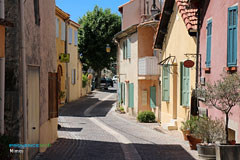 Despite the large number of houses, the village has still managed to retain a unique sense of intimacy and conviviality.
The main road, Saint Sebastien, is cobbled and lined by old houses. This is where most of the little workshops are to be found: a fine leather goods craftsman trained a bar.


At the end of the street, you will discover on the town hall square, the parish church which dominates the village.
Adjoining the church, the small Mistral lane, hosts a little further Eric Potter's pottery workshop which exhibits his works to the public.






What to see:
Parish church.


Leisure activities:
Walking.
Boulodrome.


Accommodation:

Hotel.
Holiday rentals.


Neighbouring towns and villages:
Saint Savournin (3 km), Greasque (6 km), Simiane Colongue (8 km) and Allauch (14 km).