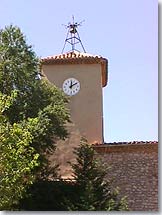 There is no need here to look up in order to see the countryside - Mimet is the highest village in the department. Turning its back on Marseilles, the village looks out over the plain of Aix-en-Provence. It is ideally situated for exploring the Etoile chain and is a favourite rallying point for walkers.

Despite the large number of houses, the village has still managed to retain a unique sense of intimacy and conviviality.

The main road, Saint Sébastien, is cobbled and lined by old houses. This is where most of the little workshops are to be found: a fine leather goods craftsman trained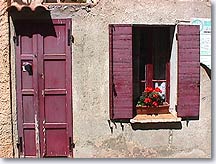 at the Hermès school, a hotel-restaurant and a bar.
At the end of the road, in the Place de la Mairie, is the parish church which dominates the whole village.
Just next to the church is a little lane called the Ruelle Mistral. Not far along it is the studio where potter Eric Desplanche exhibits his work. From washbasins to sandstone tables and domestic crockery, not to mention the special attraction, an old-fashioned vinegar bottle, Eric certainly doesn't lack inspiration.