'; //-->
La Ciotat
The Bouches du Rhone Departement - Pop.: 36,044 inh.



35 km. east of Marseille on highway A50.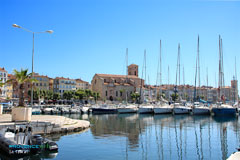 All along the coast for more than 20 km La Ciotat and the sea have been closely linked since ancient times.

In the west, this city has fabulous calanques and the highest maritime cliffs of Europe, with its highest point: Cap Canaille (394m).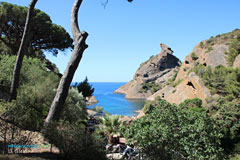 To the east there is the Gulf d'Amour with its many sand beaches and a boating port with 850 moorings.

There are also many restaurants and hotels that live up to the reputation of the most beautiful of seaside resorts.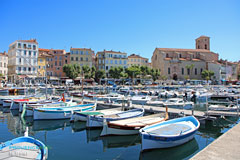 The old city and its monuments testify to its rich historical past.

In 1895 the Lumieres brothers made their first moving picture: A train arriving at the Ciotat station.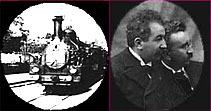 The oldest movie theatre in the world still exists; it is in the Eden Theatre of Ciotat that the first public showing was held.

The audience was completely astonished to see on the screen a train rushing in their direction.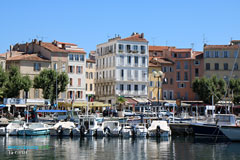 La Ciotat will charm you with its old picturesque fishing port, its beautiful 17th c. houses around the port and its Mediterranean atmosphere.

Don't hesitate to go up the Route des Cretes where you will discover an exceptional view of the whole bay.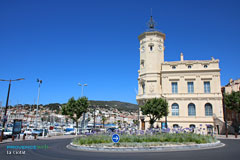 You should also take a walk in the Mugel Park and all along the trails admire the wonderful Mediterranean vegetation, and at the top the bird's eye view of the city, the bay and the Green Islands.






What to see:
The old Hotel de Ville (1864) wich is now the Ciotaden Museum (local and marine
history of Ciotat).
17th c. church. The churches of the blue and black penitents,
Notre Dame de la Garde Chapel (1610).
Eden Theater (1889).


Leisure activities:
All water sports and scuba diving, boating, excursions in the calanques. Green Island.
Walks. Hiking.
Climbing and speleology.
Tennis. Mountain biking. Swimming pool.
Cinema. Exhibitions. Casino.


Accommodation:

Hotels.
Holiday rentals.
Campsites.


Neighbouring towns and villages:
Roquefort la Bédoule (10 km), Cassis (11 km), Saint Cyr sur Mer (11 km) and Cuges les Pins (21 km).