Tarascon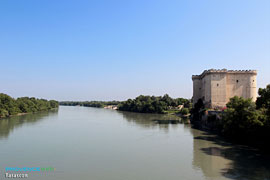 Situated on the banks of the Rhone at the crossroads that lead to
Avignon
,
Camargue
and le
Luberon
, Tarascon is still today associated with the legend that supposedly took place here in the year 48 AD.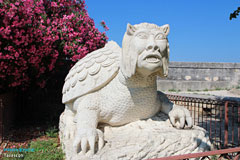 The legend goes that Martha came from Palestine to Tarascon where there ruled at the time a terrible amphibian monster called
La Tarasque
. With great courage the saint miraculously tamed the monster.
Since that time pilgrims come to visit the
Collegiate Church St. Martha
, which was built in her honor not far from the chateau Rene.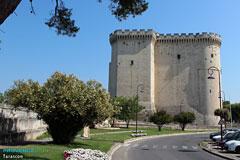 The
chateau du Roi Rene
is exceptionally well preserved, it is one of the most beautiful medieval castles in France..
This palace started in 1400 by Louis II of Anjou and finished by his son King Réné with majestic feudal looks: you will feel very small at its entrance!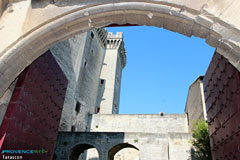 With an impressive defensive system, it also houses the elegant interior of a princely residence.
Tarascon inspired other stories, in particular Tartarin de Tarascon by
Alphonse Daudet
in 1872.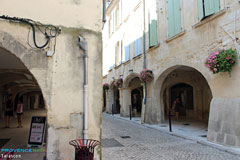 A house in the center of the city is dedicated to him.
You should visit it after having strolled through the picturesque streets, one being the Halles a Arcades, or the Arc de Boqui (covered) and the rue des Juifs.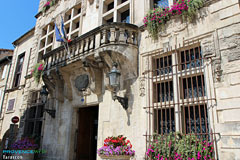 Tarascon is also proud to have the
Souleiado
rnuseum that exhibits the famous Provencal fabric. It is in a 14thc. building in the center of town.
This traditional cloth is still being manufactured by the Carles Demery factory and is exported throughout the world.
What to see
Chateau du Roi Rene (1400).
Collegiate Church St. Martha (12th and 14thc.).
Hotel de Ville (1648).
The Cordeliers cloister (1450). St Jacques Church.
Leisure activities
Market on mondays (morning).
Cinema. Swimming pool. Tennis. Climbing. ULM.
Horseback riding. Hiking and mountain biking trails.
Outings on the Rhone.
Hotels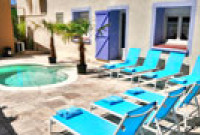 A family & affordable hotel, calm location close to the center,
heated pool, deckchairs, bowl game, BBQ, darts, table tennis, secured parking, terrace. Laundry, tours, bicycle rental. Best rates guaranteed
Bed and breakfast
Prestigious guest rooms, Junior suites 50m² and Loft suite of 80m² in an authentic farmhouse of 800m2 carefully renovated on a private 18 ha estate with olive trees, pond, swimming pool and permaculture farm. Table d'hôtes.