'; //-->
Salon de Provence
The Bouches du Rhone Departement - Population : 44,852 inh.



On the N7 and the A8, between Aix en Provence (80km) and Avignon (57km).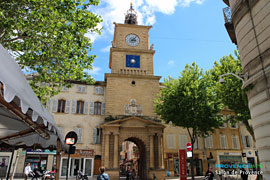 Strategically situated between the Alpilles, the Camargue and the Aix-Marseille route, Salon de Provence is surrounded by magnificent countryside where the olive tree tree is "king"!
The oldest part of Salon is built on a small foot-hill, over-looking the narrow streets. You can visit the "château de l'Emperi" which was the former residence of the archbishops of Arles.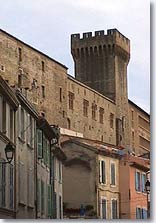 Rebuilt in the 13th century, this medieval fortress is today in perfect condition as it has been restored and maintained with the utmost care. By crossing the picturesque interior courtyard, you can visit the "Emperi Museum" which has more than 30 exhibition rooms displaying garments, uniforms and military regalia from the 17th century to 1918.
Salon is one of the oldest villages in Provence and it was the village of the famous clairvoyant scholarNostradamus. His house is in the old district and it is now a museum which details his life and unique personality. His birthplace was St Remy, he died in Salon.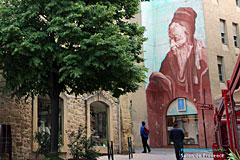 The culture of the olive tree has always been part of Salon's traditions as the manufacture of olive oil and soap known as "savon de Marseille" are naturally part of the village's cultural heritage. "Le musee de Salon et de la Crau" will help you discover all the customs and traditions of the region, including its natural history and rural activities from the past until the present. There is also a long story behind the water flowing from the fountains of Salon...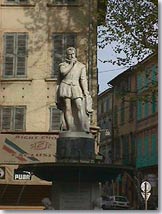 In the 16th century a certain Adam De Craponne invented and built the irrigation system later used throughout the district... thanks to Mr De Craponne and his ingenious system, the countryside soon prospered and today Salon de Provence is one of the most charming in the area.
Visitors to Salon will be enchanted by the leafy plane trees and picturesque streets in the village centre... so typical of Provence! You will be welcome to rest awhile in the shade outside the cafes where you can soak up the relaxed atmosphere for which Salon de Provence is famous...






What to see:
18th century porte de l'horloge. 17th century town hall.
18th century Moussue fountain.
13th century St Michel church.
18th century Collegiate church St Laurent.
The house of Nostradamus. Grevin museum of Provence.
L'ecole des bergers - School of the shepherds (domaine du Merle).


Leisure activities:
Hiking, mountain bike hire, horse-riding.
Tennis, swimming pool, 18-hole golf course.
Advice for aeroplane enthusiasts:
Every Tuesday between midday and 2pm the French airforce hold training sessions...
you can admire superb acrobatics.


Accommodation:

Hotels.
Bed and breakfast.
Holiday rentals.
Campsite.


Neighbouring towns and villages:
Pélissanne (6 km), Grans (6 km) and Miramas (13 km).