Gignac la Nerthe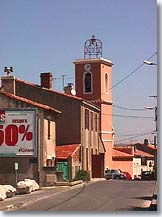 Gignac La Nerthe is situated between the N368 and the A55 motorway, near
Marignane
and the Estaque range but it can by no means be said to be a major tourist destination...
Originally mainly involved in agriculture, the families of Gignac La Nerthe now mostly tend to work elsewhere - in
Marignane
,
Marseille
,
Martigues
or
Aix en Provence
.
Gignac has developed very quickly over the last two decades, in parallel with the burgeoning economic activity in the commercial and industrial areas along the
Marseilles
-
Vitrolles
-
Marignane
axis.
In the centre of Gignac you can walk along several little narrow streets until you come to the church with its restored facade and lovely belltower. Around the church there are several rows of old cottages.
Gignac comprises several different quartiers, some of them neater and more elegant than others. With carefully tended roundabouts, flower-lined avenues and new buildings, some parts of Gignac resemble a new town, while other parts are more like a dormitory town with rather charmless housing.
What to see
Parish church.
Leisure activities
Walking, hiking.
Market on Sunday mornings (Place de la mairie).
Accomodations
Vacation rentals.