Travaillan
Situated 9 km north-east of Orange on the D 975.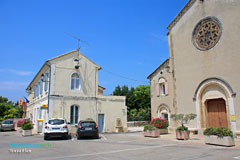 Travaillan is a small Upper
Vaucluse
village in the "suburbs" of
Orange
lying along a secondary road.
The houses are grouped around this secondary road, and in the various hamlets on the surrounding plain: Saint Jean, Saint Pierre, Saint Paul, Travaillan le vieux, and Travaillan. There is just one café-restaurant in the village..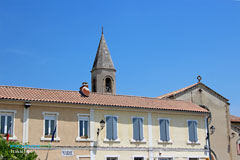 Travaillan is certainly not a big village, but a large number of hunters live there. The municipality's territory comprises the woods of La Cadeniere and La Garrigue, making it a popular hunting area, including a private hunting ground of 3 km².
Many of the local inhabitants hold a hunting permit: the wild boar, hares and thrushes had better watch out.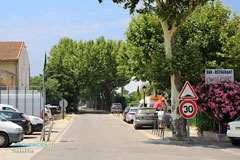 To discover the village, nothing could be simpler. The secondary road going through it takes you to all the amenities, such as the mairie, next to which is the neo-Romanesque parish church.
A large fountain indicates the site of a car park. Unfortunately there are no shops to brighten up the village centre. The nearest shops and markets are to be found at nearby
Camaret-sur-Aigues
or
Orange
which is also very close.
What to see
The church and the various hamlets
Leisure activities
Walking and horse-riding.
Aerodrome.
Accomodations
Bed and breakfast.