Châteauneuf de Gadagne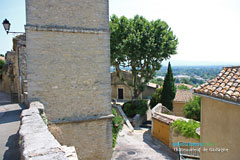 The village can be found between the green slopes of the hill which separates the Rhone plain from the Comtat plain.
Within it's fortified ramparts, Chateauneuf de Gadagne is still protected by then remains of the feudal castle.
The chateau is considered to be one of the most beautiful in the French provinces and was pillaged and partially demolished during the French Revolution.
You can still see the former ramparts from the view point in front of Saint Jean Baptiste's church.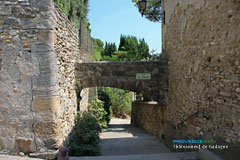 From this point it is an easy walk to discover the historic village as you drop down through the charming paved streets and alley ways.
Go as far as the main village square and you will pass by a range of village house which have ben sympathetically renovated.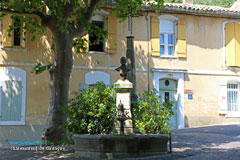 There are a few ancient doorways to be seen, good examples can be found near the Tour du Jas which dates back to the XIV century.
One fountain bears the name of the village patron,
Marie Pierre d'Alcantra Goujon
, who left her castle Font Segugne to the village and where the
febrilige
movement originated, a literary movement which is important throughout
Provence
.
What to see
Chateau de Font Segugne (private, not open to the public).
The Park of the chateau de la Chapelle.
The ramparts and the village gateways.
Leisure activities
Tennis. Fishing. Hiking.
Mountain biking. Horse riding, Boulodrome.
Bed and breakfast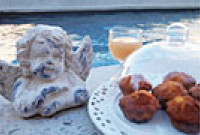 Bed and Breakfast - 4 charming guest rooms, spacious, light with air cond.
in the authentic setting of a family home winemakers
Pool - Garden - Table d'hôtes - Massages - Special offers Week end of May