Sérignan du Comtat
9km North East of Orange on the D976.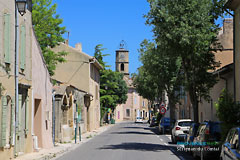 Serignan du Comtat is a small village surrounded by the famous vineyards of the "
Cotes du Rhone
" which extend as far as the forest hills of
Uchaux
.
When you visit the village you can't fail to notice that most of the houses are built out of the local stone which produces a charming architectural harmony to the village.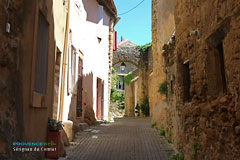 Take some of the smaller side roads which lead from the main street and you'll find some real architectural treasure such as the Italianate Baroque facade of Saint-Etienne's Church which dates back to the XVIIIe century.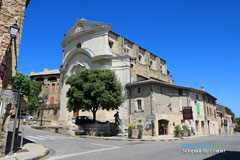 In front of the church is the bronze statue of
Jean Henri Fabre
(1823-1915), sitting with his walking stick in hand. The statue celebrates the fact that the famous entomologist lived in the village for a number of years.
In 1879
Jean Henri Fabre
decided to move permanently in to his country house called Harmas
Harmas
.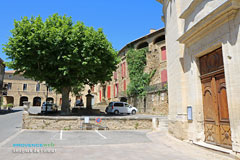 He was a true walking encyclopedia, researcher, interested in everything and all scientific disciplines and left us with a wealth of his discoveries which can be found in his 11 volumes of entomological memoirs, numerous water colours and other writings.
His house "l'
Harmas
" has become a national museum holding the treasures of this wise sage : drawings, books, herbs, minerals, insects, molluscs and fossils, not forgetting his botanical garden with more than 800 different species.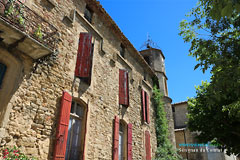 Diane de Poitiers
mistress of
Francois 1er
, lived in Serignan until her death in 1565, in her father's chateau who was the local noble.
There are many remains of the castle. Next to the Saint-Etienne church you can find the village clock set in a wrought iron campanile.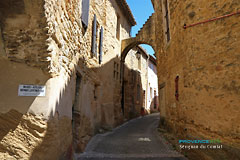 At the top of the town hall square a small doorway takes you through to the
workshop museum of the painter Werner-Lichtner-Aix
.
Only two arcades and the vaulted cellars of his medieval house remain but you can find a large collection of his works on display.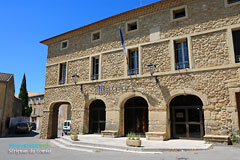 In another style, a bit further on another artist has created her workshop on the main street.The potter Nadine Brancorsini, uses red clay which she models on her wheel and then decorates with rich bright colours.
You can buy her works, choosing between beautiful salad bowls, water jugs and other pleasant items to decorate your table.
Leisure activities
Walking, Mountain Biking.
Botanical nature trail.
Summer events. Arts and Crafts.
Accomodations
Hotels.
Bed and breakfast.