'; //-->
Aubignan
The Vaucluse Departement - Population : 5,464 inh.



Situated 5 km north of Carpentras on the D7 and 9 km south of Gigondas.


The area around Aubignan is a mixture of hills and former marshes. A stone's throw from Beaumes in Venise and the famous Cotes du Rhone vineyards.
Here you will have the opportunity to take advantage of the peaceful countryside while being very close to the town and its facilities (6 km from Carpentras).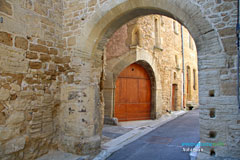 Part of this small market town is surrounded by ramparts dating from the 14th century. The old quarter still has some fine historic remains and monuments.
In front of Avenue Frederic Mistral you will see the Porte de France gate housing the village clock, which is topped by a wrought iron campanile. This gate leads to the heart of the old quarter. Close by is the mairie, housed in a building dating from the 18th century which has been completely renovated.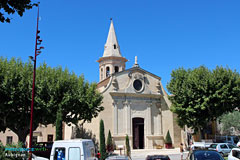 A little further along on the Place du Chateau de Pazzis is the primitive semi-Romanesque and semi-Gothic style church of Aubignan, just in front of a car park.
Within the church, encased behind a glass frame, are several ancient religious objects and the two cherubs by Bernus that were used as models for the cherubs on Saint Siffrein cathedral in Carpentras..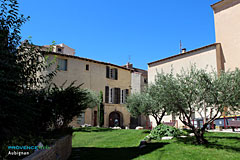 Aubignan is a major producer of young vines and vine grafts. Industry and handicrafts are very active in the area.
Don't miss the Provencal market, held every Saturday morning from April to October.






What to see:
Porte de France: the clock tower and campanile of the church of St. Victor.
The former wheat market hall (1728).
Hotel-Dieu (Old charity hospital) (1745).
St Sixte chapel (12th cent.).
Events: Christmastide evening (traditional provencal flute concert) in December.


Leisure activities:
Tennis, fishing, walking and horse treking.


Accommodation:

Bed and breakfast.
Holiday rentals - Gites.


Neighbouring towns and villages:
Beaumes de Venise (3 km), Sarrians (5 km) and Carpentras (6 km).