Gigondas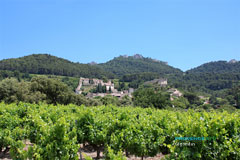 Gigondas, this little village with its great name is situated in Upper
Vaucluse
at the foot of the Dentelles de Montmirail.
This little village with only 550 inhabitants is an absolutely essential stop for lovers of this
world renowned vintage
. In Roman times the village was called "Jocunditas" which means joy or rejoicing... its famous vintage was already appreciated in those days.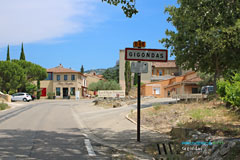 The region turned to single crop farming - wine-growing - following the great frosts of 1929 and 1956 which destroyed the ancient olive trees. The Gigondas "appellation d'origine" was requested as early as 1924, but was not granted until 1971.
Vineyards here cover an area of 12 km² and more than five million bottles are put on the market each year. These wines are powerful and generous, robust and well-balanced.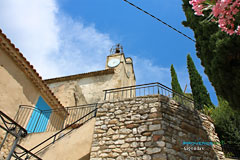 Gigondas is nicely located at the foot of a hill, nestling beneath its church which dominates all the Gigondas vineyards. The church square offers a superb panoramic view.
The Dentelles de Montmirail situated in the Gigondas area act as a backdrop to the village and offer numerous walks. To the right of the village, on a small hill, the Saint-Come and Saint-Damien chapel offers a nice view.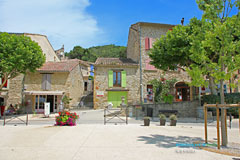 Arriving at Gigondas by the departmental path which crosses the village below, you will see the cafes and cellars that follow one another up to Place Gabriel Andeol where the cooperative cellar and the city hall are located.
Leave your car in this place, to take the time to discover this village which is constantly being restored, fitted out and enhanced.
You will climb by beautiful alleys and alleys lined with stone houses to finally arrive at the parish church of St. Catherine with its beautiful 14th century facade. You admire the view that extends over the region and goes to the Cevennes.
Next to the church you can visit the Hospices, you will reach it by a stepped path punctuated by 21 monumental sculptures created by contemporary artists.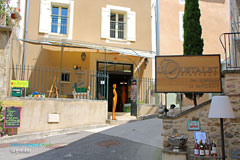 This old religious brotherhood was built in 1678, taking care of the poor and children after the revolution they took the status of Hospices in 1800. The buildings were then abandoned for 2 centuries.
It was in 1982 that these ruins came back to life and little by little the Hospices were restored thanks to the association "Gigondas of yesterday and today" the town hall, the wine estates and many volunteers.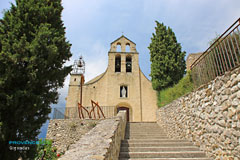 You will discover today on the ground floor cellars fitted out by the winegrowers' union with wine tasting, and upstairs an exhibition of contemporary art.
What to see
Church of Ste Catherine (11th century).
Romanesque chapel of St Come and St Damien.
The village, the winegrowers' cellar.
The Hospice and its 21 monumental sculptures.
The Dentelles de Montmirail.
Leisure activities
Tennis, bicycle touring and mountain biking.
Climbing, horse-riding centre.
Accomodations
Hotels.
Bed and breakfast.
Vacation rentals.