Châteauneuf du Pape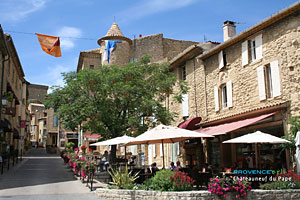 Between
Avignon
and
Orange
is spread out at the foot of the remains of its fortress.
Overlooking the Comtat plain and its 3,000 hectares of vines, this village is almost entirely devoted to the famous wine "Chateauneuf du Pape" from the no less famous appellation of
Cotes du Rhone
.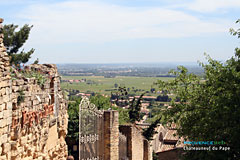 In the 14th century, on the initiative of John XXII, the Popes chose Chateauneuf to build their summer residence there, they then decided to plant a vine on the stony grounds which surrounded their property.
The production remained confidential for a long time, it began to have a reputation in the 18th century and really asserted itself in 1929, when it received the title of designation of origin Chateauneuf-du-Pape..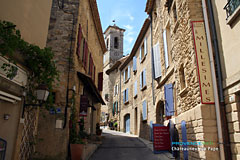 This appellation subjects the culture and production of the Chateauneuf du Pape vines to very strict rules in order to ultimately offer a very good wine produced by 55 vineyards in Chateauneuf du Pape.
While strolling in the village, stop at Place de la Fontaine, between hotels and bars, the center of the village is enlivened by the many tasting cellars in the various areas.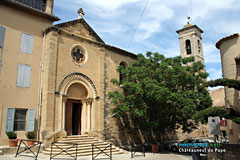 The choice will then be difficult for the uninitiated, the tastings quickly turn their heads ...The facades of the cellars are also different from each other, some luxurious, others simpler.
Some are on the ground floor of village houses, for others you will pass through small doors or narrow passages, but all these paths will lead amateurs into the lair of good wine.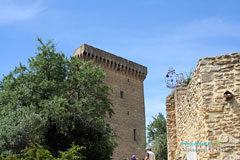 Continuing your walk, you will walk in small winding streets punctuated by beautiful fountains (including the XIV century Souspiron fountain), you will discover the old bread oven and the oil mill, you will walk to the castle of the Popes built by John XXII from 1316 to 1333.
Wide stone stairs lead to the fortress, the popes lived in this house until 1377, when the papacy returned to Rome.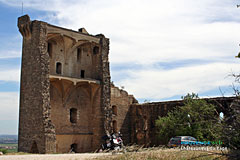 Burned during the wars of religion then badly damaged in 1944. Today only a part of the wall of the house remains, a high tower and a low room.
From these ruins, a 360 ° view extends widely over the Rhone valley, the
Luberon
,
Avignon
with its Palais des Papes which stands out against the background..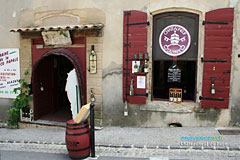 At the exit of the village, the museum of the tools of the wine growers, installed in the cellar of the father Anselme, contains an important collection of tools used in the work of the vine and the wine dating for some of XVI °. Among which a press, barrels and corkscrews.
A little further, you will discover the Saint Theodoric chapel which is from the Romanesque period and hosts painting exhibitions in the summer season.
What to see
The remains of the papal castle (XIV°).
The Hers Tower (XII°).
Shrines. Chapel St Pierre du Luxembourg (XVIII°). Chapel St Theodoric (XVI°). The Souspiron Fountain (XIV°) Notre Dame de l'Assomption Roman church. The Wine cellars.
The Wine makers museum.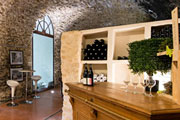 In the heart of Chateauneuf-du-Pape village Vignobles Mayard for 5 generations their vineyards with rigour and passion to offer complex and generous wines of the Chateauneuf du Pape and Cotes du Rhone appellations. In vaulted cellars of a 17th century chateau, the family will make you discover its beautiful cellars and will make you taste its wines. Know more and book online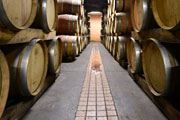 Domaine in la Janasse is a familial winery hold by the Sabon family. Their vineyards honour the diversity of the terroirs of the region through meticulous blending. Discover their vinification processes and the quality of their wines with a free tour and tasting. Know more and book online