Villedieu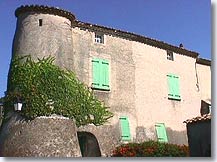 Villedieu is one of a line of villages bordering the north of the Comtat. This small medieval village was once a
commandery of the Knights Templar
where they owned a chateau with one tower.
Villedieu was founded during an era when the seasons and years were punctuated by invasions, and still has some picturesque remnants of a village clearly built with a defensive strategy in mind.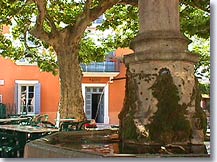 On Place de la Liberation, in front of the mairie, the terrace of the Café du Centre extends as far as the ramparts more than 10 metres high, proudly towering above.
As you walk in the streets of the village, you will discover old houses tightly grouped around the 12th century church.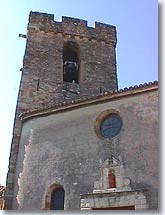 You will walk past the remnants of the old village's ramparts, comprising three majestic gates.
On the middle gate, which has a lancet arch, a papal coat of arms is visible. It's the only authentic papal coat of arms still in place in the Vaucluse.
When you pass the threshold of these gates, you enter the old village centre.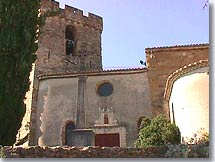 You can then wander around in the warm, increasingly narrow lanes. The Marotti hole will take you to the village church, passing through a labyrinth of houses.
few steps away, pushed by the wind to the end of Rue Mistral, you can have a nice rest on a wooden bench and contemplate the beautiful countryside surrounding the village.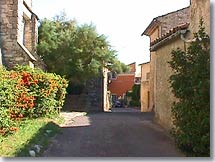 A third of the villagers still live in its old centre. The other two thirds are scattered in the farms and in the detached houses that have been built around the village over the last few years.
Most of the 11.38 km² of the Villedieu municipal territory is taken up by vine cultivation.
What to see
The 12th century church, the ramparts.
Leisure activities
Walking and bicycle touring.
Tennis.
Accomodations
Bed and breakfast.
Vacation rentals.