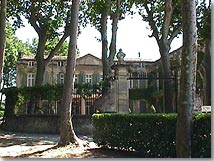 Located around its factories in the north of Avignon, this town has few remains of its past except some ruins of the castle walls and a keep which bear witness to its medieval past. Little remained of Sorgues after the invasion by the baron des Adrets in 1562.

An immense village square surrounds the mairie, an imposing large white building.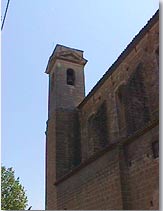 From the square numerous little streets wind up to the old village.

There are a few pretty fountains, with water from the River Sorgue which embellish the roundabouts or other squares in the village and now and again you can glimpse some remnants from the past, remains of the ramparts or towers.

At the exit to the village an old water wheel on the banks of the River Sorgues reminds us of the inevitable presence of water in the village.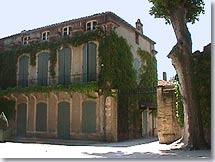 At the entrance to the village, on the Vedène, there are the beautiful gardens of the chateau de Brantes, (encore habité). which is still inhabited, and at the weekend you can visit the superb Italianate park.

are some superb stone fountains, ponds and the famous plane tree forest which boasts the highest plane trees in France (26 meters high, on average).