Camaret sur Aigues
Located on the "Princes' road" (Route des Princes), 6 km east of Orange on the D 975.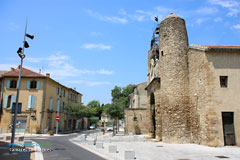 Camaret sur Aigues is a large circular-shaped village that has several gates allowing access within the ramparts..
The Cours du Levant circles the village. On this street you will find shops and boutiques interspersed between the avenues of ancient plane trees.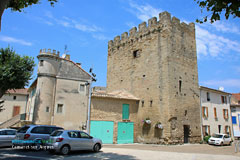 You will also discover a variety of architectural curiosities here: a square Saracen tower, erected in the 13th century, which was perhaps a seigneurial residence or the local seat of power.
The "
Maison Beque
" was built as a private mansion in 1750 for a farmer general of the
Serignan
barony, and is now an exhibition centre.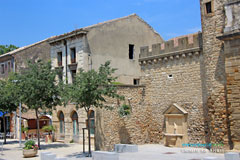 The "
Horloge
" (clock) gate, crowned with a fine wrought iron campanile, was built on one of the rampart gates in the 18th century.
The recently restored 12th century chapel now hosts numerous cultural events.
Economic life in the village is centred around two main activities: food processing industries that have been set up in the area, such as Nestle France and Le Cabanon, a tomato and vegetable canning factory.
The second activity is wine growing.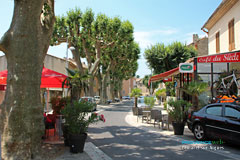 Camaret is in the "appellation controlee" area for
Cotes du Rhone
and
Cotes du Rhone village
. Six privately-owned wine cellars perform bottling and direct sales.
Traditionally Camaret is one of the main rootstock territories (American vines) and supplies the main European vineyards with vine grafts.
What to see
The clock gate with two Ravelin towers with iron campanile.
Square Saracen tower, built in the XIII°.
The Beque House, mansion of the XVIII°.
The church of Saint Andéol (XVIII°) and the Saint Andéol chapel (XII°).
Leisure activities
Walking, horse-riding and motoball.
Night club, tennis, fishing.
Accomodations
Bed and breakfast.
Vacation rentals.