'; //-->
Castellane
Departement of the Alpes de Haute Provence - Verdon - Pop.: 1.500 inh.



Situated between Draguignan (60km) and Digne (55km) by route D955. Between Grasse (60km) and Digne by the Napoleonic Way.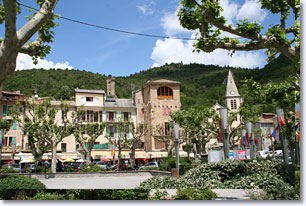 Castellane is located in a privileged site, right at the doorway to the Verdon Canyons.

Tourist are drawn here both for the commercial activity and the large choice of excursions and sports offered by the old city.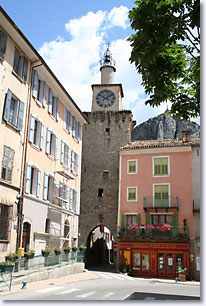 Sports of all kinds whether in the air or in the water climbing or hiking, are all available, no matter the level.

Downtown Castellane is focused around the Marcel Sauvaire square, the center of local activity. Strolling about one can discover narrow streets, (some of which are pedestrian), leading to shops or other more mysterious places.

The whole of the town should be admired from the terrace of Notre Dame du Roc. One reaches this chapel after walking alorng what remains of the 14th century walls of the city.

There is also a beautiful view of the ramparts, the Napoleon Bridge and the Verdon Canyons.





What to see:
Museum of Popular Arts and Traditions.
Hiking paths marked by the Tourist Office.
Chapel Notre Dame du Roc.
The ruins ot petra castellana.
St. Victor's Churc.
The ramparts and the Pentagonal Tower.


Leisure activities:
3 heated swimming pools. Horseback ridiing. Hiking.
Golf (Chateau de Taulanne).
Kayaking, rafting, hydrospeed, canyoning and climbing in the Verdon.
Sailing, canoeing.
Windsurting on the Castillon Lake.
River fishing. Mountain biking. Paragliding. Squash. Hang gliding.


Accommodation:
Hotels.
Bed and breakfast.
Holiday rentals.
Campsites.


Neighbouring towns and villages:
Le Fugeret (5km), Braux (6km), Méailles (8km).