'; //-->
Cabries
The Bouches du Rhone Departement - Population : 9,810 inh.



13 km km south of Aix en Provence via the A8 or the N7.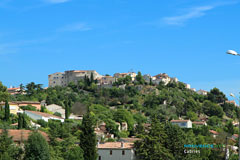 Cabries is a typical Provencal village, perched on a rocky outcrop between Aix and Marseille.
You will discover delightful medieval streets which wind amongst the ancient houses, adding to the village's charm.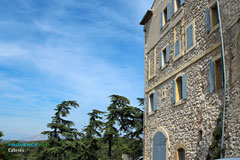 The "chateau de Cabries" dates from the 9th century, alhtough it was restored and rebuilt in the 18th century. Well-known painter Edgar Mélik bought the chateau in 1934.
Today it houses the "Musee Melik" where impressive exhibitions can be seen, including works by Picasso, Dali and César...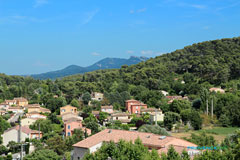 From the terrace of the chateau, an exceptional view of Mount Sainte Victoire can be seen, from the "pilon du Roi" to Mont Ventoux...
... a visit to the chateau should therefore not be missed.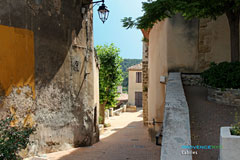 While walking in the streets of Cabries, you will discover the marvellous architecture of the region...
...beautiful old houses line the shady squares, colourful shutters faded by the sun, old wooden doors, stone-walls bleached from the sun... and small cats stretched out in the heat.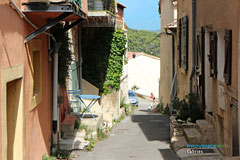 In summer visitors are invited to enjoy the Provencal cuisine... there's no question of escaping the famous "daube provençale" or the delicious "pieds et paquets", without forgetting the mouth-watering "aïoli"...
everything is washed down with an excellent local rosé... ambience guaranteed !






What to see:
18th century Château de Cabries chapel.
19th century Calas church. 9th century Chateau de Cabries.
12th century Chateau de Trebillanne XII° today the "Maison des associations".
Melik Museum.


Leisure activities:
Hiking. Tennis. Golf. Boulodrome.
International minor football tournament (May).
Market, Saturday morning.
Pottery market in May, antique market.
Garlic festival mid-July and "aïoli celebration" end of August
Festival end of July with "pieds et paquets" tasting.


Accommodation:

Hotels.
Bed and breakfast.


Neighbouring towns and villages:
Bouc Bel Air (4 km), Gardanne (10km) and Aix en Provence (15 km).