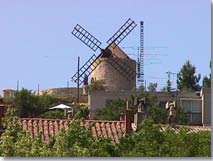 Gardanne is strategically located close Aix en Provence and Marseille. Clinging to the green, south east slopes of the Captivel hill, the town is watched over by the historic center Gardanne.

In the past a mining town, Gardanne has an urban industrial landscape but has ben able to conserve the charm of its historic center.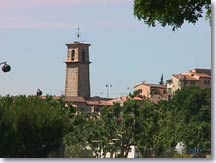 Take a walk around the village and you'll chance upon some superb small squares, resplendent with flowers, beautiful fountains worthy of some of the most beautiful provencal villages, take some of the narrow streets and stop at the "Chapelle des Pénitents" which hosts the local history museum "Gardanne autrefois"as well some archaeological remains.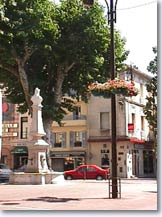 At the Paul Cézanne Square you can admire the clock tower which dominates the whole village, the ancient gateways and the vaulted passageways. Paul Cézanne alived in Gardanne in 1885 and 1886, and was inspired by the hill top village which he painted on a number of occasions.

Meander down the Carnot, Forbin or République, and rest a while in the shade on the terrace of one of the cafes whilst taking in the typical south of France atmosphere.

If you arrive in Gardanne on the Aix road you will have passed by the Domaine de Valabre located about 3 km from the center of town. This is unique natural environment, famous for it's architectural heritage with the hunting house and XVII° century château.



Gardanne inherited the domaine from the Marquise de Gueydan in 1880. Since then it has been tastefully restored, and you can enjoy the sumptuous gardens and river side walks along the banks of the Luynes or stop a while for a picnic in one of the specially laid out picnic areas.

Visit the Ecomusée de la "Fondation pour la Forêt" on Place Valabre and you can learn all about the mediterranean forests.