Departement of Var - Population: 9.012 h Surface: 2.115 ha
Situated on coastal route D559 between Marseilles (30km.) and Toulon (23km.).
Highway exit on A50.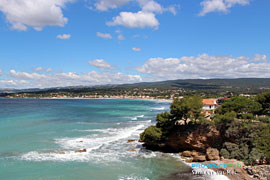 Wide open onto the bay ot Lecques, St Cyr sur Mer is one of the musts of the Provençal coasts with its two hamlets, Les Lecques and La Madrague.

Surrounded by pine woods and renowned vineyards, the bay shelters 3 little harbors and a sandy beach 2 kilometers long.






The path along the shore goes all the way to Bandol and is exceptionally lovely; one can admire the bottom of the sea and the rocky coast ( the Pointe Grenier is not to be missed).

Off this famous path is the Fregate Golf Course which has both an eighteen hole course and a nine hole training course. The whole golf area has been designed to fit the land and to offer fabulous views of the Embiez Island. Gorgeous !

What to see:

Museum Tauroentrum (ancient civilization).
Contemporary Art Center(painting and sculpture).
St. Côme mill.


Leisure activities:

Scuba diving. Cruises. Water skiing.
Golf. Fishing. Hiking. Mountain biking. Tennis.
Sailing. Aqualand. Movies. Night club.