'; //-->
Pourrières
The Var Departement - Population : 4,813 inh.



3km north of N7 between Aix en Provence and St. Maximin by D23 or D423.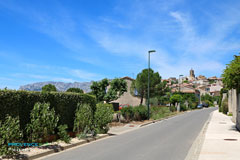 Pourrieres is a large village built on a rocky spur at 350m. altitude. Across from the Montagne Ste. Victoire dear to Cezanne. Pourrieres overlooks the plain where the river Arc runs.
As you walk through the narrow alleys of the village, you will pass in front of some old typical Provencal houses, restored stone by stone..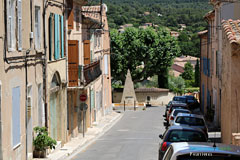 With their colourful shutters half-open, other more recent dwellings provide their inhabitants with a welcome refuge from the heat.
By climbing the village's steep slopes, you will arrive at a pleasant square complete with "le boulodrome"" and two picturesque cafes opposite each other. During the long summer evenings, lively gatherings are often held here.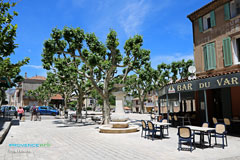 While only 25 km. from the museums and fashionable boutiques of Aix en Provence, here in Pourrieres you will find many walks and excursions in the picturesque Provencal countryside.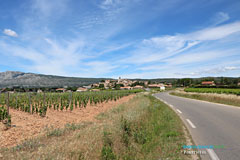 If you wish, you can cross the superb countryside by taking a small, very charming road (D57) which leaves Pourrieres and leads you to the neighbouring village of Puyloubier.
The road is quite flat and ideal for cycling.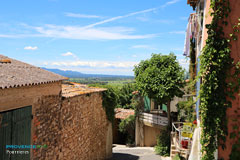 You will pass old stone cottages surrounded by flowers and trees and vast fields of grapevines separated by small groups of trees.
Around each corner in the road, the splendid Provencal countrysid unfolds, worthy of the most cliched postcard and complete with the magnificent backdrop of both Mount Sainte Victoire and La Sainte Baume.






What to see:
Montagne Sainte Victoire (1102m) at 7km. Mont Aureliens to the south.
The smugglers' path and the ruins of the medieval castle of Roquefeuille.
The Munition Bread (fortified rock):
Remnant of an oppidum built at an altitude of 600m 3550 years ago.
Remnant of the Caius Marius trophee.


Leisure activities:
Walks. Horseback riding. Mountain bike.
Tennis.


Accommodation:

Holiday rentals.


Neighbouring towns and villages:
Puyloubier (6 km), Rousset (10 km) and Ollières (12 km).