'; //-->
Trets
The Bouches du Rhone Departement - Population : 11,070 inh.



Between Aix en Provence (22km) and St Maximin (16km) via the D6 and N7.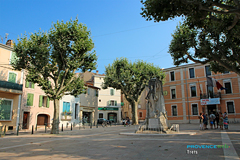 Trets is an ancient medieval village situated between Mount Sainte-Victoire and the Monts Auréliens on the border of the Var and the Bouches du Rhone.
You will discover a large town undergoing extensive economic development, with the historic heart of the village encircled by the remains of its ramparts.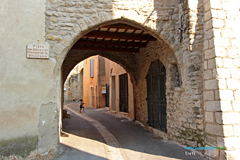 The site has a rich historic past. You can happily stroll aound the narrow streets of Trets and you will come across beautiful ancient houses with picturesque window-frames.
Trets is surrounded by fortifications dating back to the 12th and 13th century and you will come across five gate-ways which are still standing including the Portail de Saint Jean to the south and the Portail de Pourrieres to the west.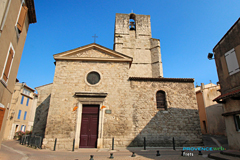 You will also discover arched passage-ways typical of a medieval village, and in particular the curiously named "Trou de Madame Lion".
Do not miss the unfinished church tower of the 13th century ancient synagogue and the superbly imposing 12th century Notre Dame de Nazareth church (classified as an historic monument).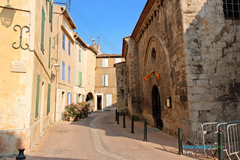 After this visit, the "place du 14 Juillet" bordered by plane trees is an ideal spot to relax and enjoy a cool drink from one of the pleasant cafés. Once refreshed, you can then set off to discover the countryside surrounding Trets.
You will have a magnificent panoramic view from the St Jean du Puy chapel (2 hours by foot, or 10 km by car).


Before your eyes Mount Sainte-Victoire, the Alpes, the Sainte-Baume, the Arc and the Huveaune valleys all unfold... from this isolated spot, you will no doubt appreciate the wonders of nature !






What to see:
12th century classified church ND de Nazareth.
13th century Synagogue.
Ramparts and medieval chateau, fountains, doorways, oratories...
St Jean du Puy hermitage, 5th century classified site (10 km).


Leisure activities:
Hiking. 2 Mountain biking circuits.
Tennis. Swimming pool. Horse-riding.
Go-kart racing. Gymnasium. Stadium.
Wednesday morning market.
Spring fair, the second Sunday in March.
Mid-March: Painting competition, Provencal week.
Mai 1st: Pilgrimage to the St Jean du Puy Hermitage.
July: antique fair, fete de la St Eloi (horse-parade) .
Mid-July: Folklore Festival.
August: Foire de la St Barthelemy.


Accommodation:

Hotel.
Vacation rentals.


Neighbouring towns and villages:
Peynier (3km), Rousset (7km) and Pourrieres (8km).