'; //-->
Cornillon Confoux
The Bouches du Rhone Departement - Population : 1,438 inh.



35km west of Aix en Provence and 12km south of Salon de Provence. 50 km from Marseilles.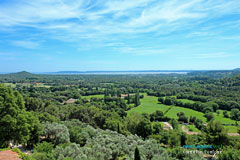 35km west of Salon de Provence and Istres, Cornillon Confoux is a little village which perches peacefully above the Etang de Berre.
To get to Cornillon Confoux, first take the D15, a long, level little road flanked by greenery. After a few kilometres, turn on to a road which climbs more steeply.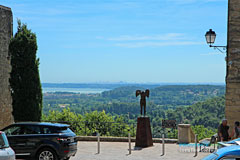 Once you arrive in the village, you will understand why it is known as the balcony of Etang de Berre and the Salonnais area.
Cornillon boasts an outstanding panoramic view, which stretches as far as the Alpilles in the west (with les Baux de Provence) and Sainte Victoire in the east. Opposite is the Luberon and in good weather Mont Ventoux can be seen beyond, in north Vaucluse.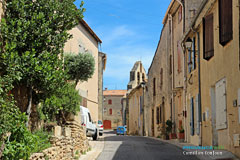 Walking through the little lanes of Cornillon Confoux you will find rows of little cottages, among them some lovely old stone houses.
The Place de l'Eglise is particularly charming, with the 12th-century church on one side and the Beffroi (Belfry), which was built in 1852, on the other. Next to the church the old presbytery now houses the tourist information bureau..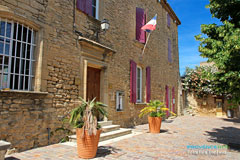 There are some lovely walks in the countryside around Cornillon Confoux, especially along the Touloubre River. There are also signposted mountain biking trails and you can explore the hill on foot or on horseback.
Cornillon is an oasis of calm away from the large towns, yet it is less than an hour's drive to the Alpilles or into Camargue or the calanques (deep narrow creeks) of Marseilles or Cassis.






What to see:
Belfry (1852). Romanesque church of St Vincent (12th century).
15th-century presbytery (now the tourist information bureau).
Bories (ancient drystone constructions - fifty listed in the municipality).
Allee des sarcophages (necropolises with tombs from the 1st century BC).
Romanesque chapel of St Vincent (remains of a 12th-century priory).
Chateau du Lys (17th century).
Old fortified Chateau de Confoux.(13th century, altered during the Renaissance).


Leisure activities:
Market on Tuesday mornings (Place de l'Eglise)
Walking, horse riding and mountain biking
Tennis. Boules. Motorcross course. Summer events.
July: village festival, 3rd weekend
Rabelais Festival
April: flower show, last Sunday of the month
January: Festival of St Jean.


Accommodation:

Hotel.
Bed and breakfast.
Holiday rentals.
Campsite.


Neighbouring towns and villages:
Saint Chamas (5km), Lancon de Provence (6km), Miramas (9km) and Istres (19km).